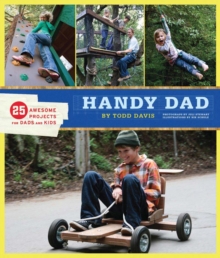 Handy Dad : 25 Awesome Projects for Dads and Kids
Paperback / softback
Part of the Handy Dad series
Description
Skate ramps, zip lines, go-carts, and more! In this super-fun book, Todd Davisextreme sports athlete and host of HGTV's Over Your Head presents 25 awesome projects for dads to build with their kids.
Busy dads can choose projects that range from simple to challenging and take anywhere from five minutes to a full weekend.
Readers are given all the directions they need to grab materials that can be found around the house or at the local hardware store and get to work banging up a sweet BMX ramp or half-pipe, building a tree house or tire swing, or throwing together a slip-and-slide or tie-dye station for an afternoon of fun.With plenty of colour photographs, easy-to-follow instructions, and detailed illustrations, Handy Dad is chock-full of creative and inexpensive ways to keep kids (and dads) entertained for hours.