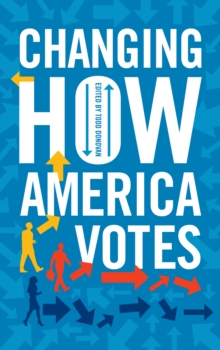 Changing How America Votes
Hardback
Description
Democracy requires conversations about how its practice can be improved.
This is an enduring theme in American politics, and demands for change in how we conduct elections are highly salient today.
The crisis of the 2000 presidential election generated demands for changes in election rules, but the response was muted.
After 2000, several states adopted photo ID laws, and other rules that made it more difficult to vote.
The 2010 Citizens United decision heralded in deregulation of campaign finance.
The Voting Rights Act was weakened by The Court in 2013.
More recently, the unprecedented presidential election of 2016 generated accusations from the left and right that America's elections were `a rigged system' of caucuses, conventions, and campaign finance desperately in need of reforms. Changing How America Votes is an edited volume comprised of 15 short substantive chapters on various specific reform topics that examine how electoral democracy in the United States is working, and how it might be improved.
Editor Todd Donovan has written brief introductory and concluding chapters, and very brief introductions to the following three thematic sections that divide the readings accordingly: Voting and Participation: Changing Who Votes; Electoral Rules and Systems: Changing How We Vote; and Changing the Role of Parties and Money.
In order to facilitate student learning and assist instructors' ability to use the book, this edited volume reads as a coherent text.
The contributors, many of whom are accomplished scholars, or who write frequent blog posts and Op-Ed pieces, were asked to write as accessibly as possible for an undergraduate audience, and address many of the following topics: * Why is this issue important? * What would a proposed reform look like?* What are arguments in favor of the proposal?* Is there evidence it might make a difference, and what difference would it make?* Beyond the evidence, is it the right thing to do?List of contributors: Joseph Anthony, Lonna Rae Atkeson, Matt Barreto , Brian Brox, Barry C.
Burden, Jason S. Byers, Jamie L. Carson, Jason P. Casellas, Kellen Gracey, Wendy L. Hansen, Ron Hayduk, Jordan Hsu, David C. Kimball, Vladimir Kogan, Martha Kropf, Eric McGhee, Stephen Nuno, Drew Spencer Penrose, Rob Richie, Gabriel Sanchez, Shane P.
Singh, Caroline J. Tolbert, Hannah Walker, Holly Whisman, and Kenicia Wright
Information
Format: Hardback
Pages: 256 pages, 20 Tables, unspecified; 8 Illustrations, black and white
Publisher: Rowman & Littlefield
Publication Date: 31/03/2017
Category: Political structure & processes
ISBN: 9781442276062
Free Home Delivery
on all orders
Pick up orders
from local bookshops