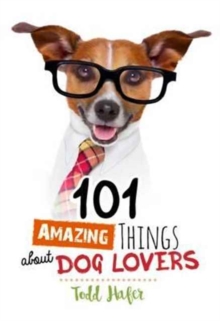 101 Amazing Things About Dog Lovers
Hardback
Description
Dogs. There are hundreds of official breeds in the world and even more mixes and mutts than we can count.
But each dog has its own unique look and personality.
No better phrase can describe these endearing companions than "man's best friend." In this book you'll discover truly amazing things about dogs and the people who love them. How many and what breed of dogs survived the sinking of the Titanic?
What does the length of a dog's nose have to do with a dog's health?
Which U.S. president's dog ripped a French ambassador's pants off at the White House?
Why are dogs' faces able to be so expressive? There are at least 101 intriguing things to discover about this cherished pet and the people who love them. And who knows- maybe you'll find yourself loving your dog (or dogs) even more.
If that's even possible.
Information
Format: Hardback
Pages: 160 pages
Publisher: BroadStreet Publishing
Publication Date: 24/03/2017
ISBN: 9781424553860
Free Home Delivery
on all orders
Pick up orders
from local bookshops