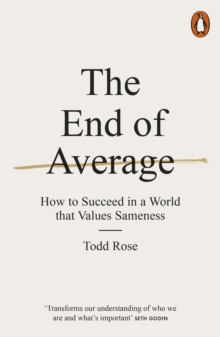 The End of Average : How to Succeed in a World That Values Sameness
Paperback / softback
Description
'Must the tyranny of the group rule us from cradle to grave?
Absolutely not, says Todd Rose in a subversive and readable introduction to what has been called the new science of the individual ...
Readers will be moved' Abigail Zuger, The New York Times'Groundbreaking ...
The man who can teach you how not to be average' Anna Hart, Daily Telegraph'Fascinating, engaging, and practical.
The End of Average will help everyone - and I mean everyone - live up to their potential' Amy Cuddy, author of Presence'Lively and entertaining ... a cheering story of how the square pegs among us can build successful lives despite being unable or unwilling to fit into round holes' Matthew Reisz, Times Higher Education'Heartening . . . a worthwhile read for the aspiring nonconformist' Iain Morris, Observer
Free Home Delivery
on all orders
Pick up orders
from local bookshops