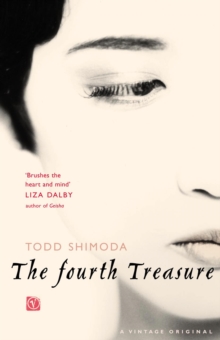 The Fourth Treasure
Paperback
Description
Tina Suzuki has just begun her first year of graduate study.
Born and raised in San Francisco by her Japanese immigrant mother, Tina knows nothing about the rest of her family, and very little about her cultural heritage.
But when her boyfriend's Japanese calligraphy teacher suffers a stroke, loses his ability to communicate, but continues to create magnificent calligraphic art, Tina knows she has stumbled across an ideal research subject.
Getting people to cooperate with her research is an entirely different matter.
The blank personal history presented by her mother is in fact a tightly wound scroll full of scandalous secrets.
Tina's studies lead to revelations about her own family - secrets she would never have expected.
Juxtaposed with Tina's story is that of the stricken calligraphy teacher as a young man in Kyoto, and the history of the ancient inkstone he carries with him.
Information
Format: Paperback
Pages: 368 pages
Publisher: Vintage Publishing
Publication Date: 02/01/2003
ISBN: 9780099445074
Free Home Delivery
on all orders
Pick up orders
from local bookshops
Reviews
Showing 1 - 2 of 2 reviews.
Review by tronella
16/06/2015
So this Japanese calligraphy teacher (living in America) has a stroke, and loses the ability to communicate - he still draws characters, but they just aren't actual Japanese kanji any more, just... shapes that look as though they could mean something. And this neuroscience (I think?) postgrad student decides she wants to use him as a case study, because - well. Because it's interesting, I guess.And it has the story of the teacher's past, and the student's mother's past, and the student's life outside of studying all mixed up in there, to make it into an actual book rather than 'ooh neuroscience is shiny! The End.', which is all good too. The student's boyfriend is American, but he knows more about Japanese culture and language and things like that than she does, even though she's Japanese-American.So yeah. Good book :)
Review by CarolynSchroeder
16/06/2015
This is a wonderful, wandering novel about many things and many human beings, but at its core it explores Japanese calligraphy/shodo (its history, formation, competions and disciplines) and the neuroscience/neuroanatomy between language, understanding and communication. It involves an accomplished sensei at Berkely who has a stroke and can no longer do traditional kanji - but creates his own hybrid symbols in an effort to either ease his mind or communicate. He connects the other characters, including a Japanese woman (recently diagnosed with MS) who moved from Japan in the 70s, her daughter (a neuroscience Phd student) and their various friends. The writing, artwork and excerpts from other sources are beautiful and thought provoking. Although there is a pretty structured plot, this is more an exploration of the mind, the art of shodo and neuroscience/neuroanatomy, so it wanders quite a bit. The language centers of the brain are so complex and not well understood, so there are many theories, guesses and ideas of what a person goes through when communicating and feeling. That said, I loved it. If you are up for just sitting back and soaking up a new subject, you will really enjoy it. I did not give it five stars because the plot defies reason, but that said, it is a bit fable-like, so it did not bother me all that much. Highly recommended for something mystical and off the beaten path.