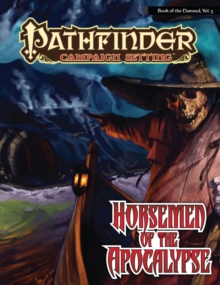 Pathfinder Chronicles: Book of the Damned Volume 3 - Horsemen of the Apocalypse
Paperback
Description
Devils may seek to corrupt your faith and mind, and demons certainly look totwist your body and destroy your home.
But the fiends known as daemons seeksomething altogether more fundamental from mortals - they seek lifeitself!
Evil without the distraction of binding law or capricious chaos, theylook to the world with hungry eyes for fresh souls to consume.Horseman of the Apocalypse continues the Book of the Damned series bytaking a detailed look at the daemons - ushers of catastrophe andharbingers of disaster.
Personifying the worst ways a person can die, daemonsconstitute the third arm of major fiendish races, hailing from the nightmarerealm of Abaddon, where they are led by four legendary figures- the so-calledHorsemen of the Apocalypse!
Information
Format: Paperback
Pages: 64 pages
Publisher: Paizo Publishing, LLC
Publication Date: 13/12/2011
Category: Indoor games
ISBN: 9781601253736
Free Home Delivery
on all orders
Pick up orders
from local bookshops