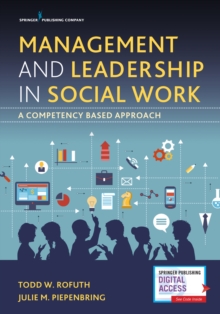 Management and Leadership in Social Work : A Competency Based Approach
Paperback / softback
Description
Full of expert guidance on leadership and management, this unique book is geared specifically to the needs of social work administrators, educators and practitioners in both academic and agency settings.
The contents are fully comprehensive and encompass both theoretical approaches to management and leadership plus a wide variety of practical strategies that can be directly applied to practice. Topics blend the art and science of leadership and management and incorporate all competencies and practice behaviors required by NSWM and CSWE.
These include understanding different leadership styles, practicing self-reflection and self-care, methods to motivate teams and mentor others, developing strategic plans, understanding financial management, marketing, fundraising, human resources, program evaluations, community collaboration, and much more.
Additionally, the text illustrates the parallels/disparities between social work practice skills, knowledge, and ethics and those of leadership and management.
Instructor resources include PowerPoints for each chapter, lecture notes, and sample syllabi.
Print version of the book includes free, searchable, digital access to entire contents. Key Features:Geared specifically to the needs of social work educators and practitioners in academic and agency settingsIncorporates all competencies and practice behaviors required by NSWM and CSWE as cited in each chapterDiscusses the differences between management and leadership along with best practicesFosters knowledge and skill development through the use of competency-based real-life cases, self-reflective exercises, and thought-provoking questionsOffers examples of how to motivate and work with different age cohorts, community groups, and other stakeholdersAddresses the challenges of financial management and fundraisingExhibits specific problem-solving and decision-making strategies
Information
Format: Paperback / softback
Pages: 552 pages
Publisher: Springer Publishing Co Inc
Publication Date: 30/05/2019
Category: Social work
ISBN: 9780826130679