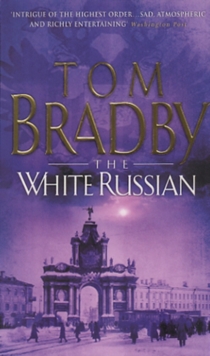 The White Russian
Paperback
Description
St Petersburg 1917. The capital of the glittering Empire of the Tsars and a city on the brink of revolution where the jackals of the Secret Police intrigue for their own survival as their aristocratic masters indulge in one last, desperate round of hedonism.
For Sandro Ruzsky, Chief Investigator of the city police, even this decaying world provides the opportunity for a new beginning.
Banished to Siberia for four years for pursuing a case his superiors would rather he'd quietly buried, Ruzsky finds himself investigating the murders of a young couple out on the ice of the frozen river Neva.
The dead girl was a nanny at the Imperial Palace, the man an American from Chicago and, if the brutality of their deaths seems an allegory for the times, Ruzsky finds that, at every turn, the investigation leads dangerously close to home.
At the heart of the case, lies Maria, the beautiful ballerina Ruzsky once loved and lost.
But is she a willing participant in what appears to be a dangerous conspiracy or likely to be it's next, perhaps last, victim?In a city at war with itself, and pitted against a ruthless murderer who relishes taunting him, Ruzsky finds himself at last face to face with his own past as he fights to save everything he cares for, before the world into which he was born goes up in flames.
Information
Format: Paperback
Pages: 560 pages
Publisher: Transworld Publishers Ltd
Publication Date: 18/10/2003
Category: Thriller / suspense
ISBN: 9780552149006
Free Home Delivery
on all orders
Pick up orders
from local bookshops
Reviews
Showing 1 - 1 of 1 reviews.
Review by DeltaQueen50
16/06/2015
Early spring, 1917 are dark days indeed for Russia. The war is going very badly with Russian horse mounted cavalry being pitted against German armoured divisions and machine guns. The people are cold, hungry and bitter. The Tsar is away at the front, and the Tsarina is the most hated woman in Russia. Many people are convinced that she is spying for her birth country of Germany, and it is openly speculated that she and the recently murdered monk Rasputin were lovers.Sandro Ruzsky, a chief inspector of the St Petersburg police has recently returned from four year exile to Siberia. Called out to a double murder, Ruzsky comes to realize this complex case is rife with politics, terrorism and revolution. Soon he is up against his old nemesis from the Okhrana, the Czarist Secret Police, as the case leads to the Imperial Palace, and the very dressing room of the Tsarina. Also involved on the fringes of the case is Maria Poplova, a beautiful ballerina who is very much part of Ruzsky's past, and he hoped his future. With it's many twists and turns, this book is as much about the last days of a decaying society as it is about tracking a ruthless killer. As events unfold, many characters become much more involved in their own secret intrigues and plans for escape as Tzarist Russia crumbles around them.Tom Bradby has set The White Russian at a specific time and place in history and has built his story around St. Petersburg on the brink of revolution. An atmospheric and gripping story, he portrays the confusion, menace and helplessness of those days brilliantly.