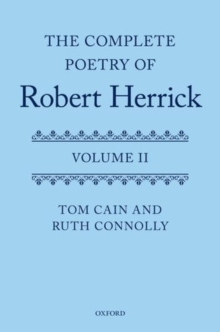 The Complete Poetry of Robert Herrick : Volume II
Hardback
Description
Robert Herrick has long been one of the best loved of English lyric poets.
Known through the centuries as the author of 'Gather ye rosebuds', he also wrote, as this new edition shows, hundreds of songs, epigrams and longer poems equally worthy of attention.
Volume I of this new edition of Herrick's work contains Hesperides, Herrick's only published collection.
As well as the commentary on Hesperides, volume II contains the fifty-nine surviving manuscript poems whichcan be firmly attributed to Herrick, and on which his reputation was based before 1648.
It is an ambitious and original attempt to recover for the first time the history of Herrick's corpus of manuscript poetry, and to identify how his poems circulated, and who his copyists and readers were.
Byestablishing the type of sources to which they had access and the nature and quality of the poems these sources contained, and through the histories of transmission that accompany every poem, this volume offers a significant body of evidence that deepens our critical understanding not only of Herrick's poetry, but of the mechanics of scribal publication and the culture of reading, writing and performing poetry and music in early modern England.
Where, as is often the case, a musical settingsurvives this is also printed, along with a commentary on the setting, in a form which is designed to encourage the performance of the lyrics.
Information
Format: Hardback
Pages: 826 pages, 4 black-and-white halftones, 19 line drawings, 31 musical scores
Publisher: Oxford University Press
Publication Date: 17/10/2013
Category: Poetry by individual poets
ISBN: 9780199212859