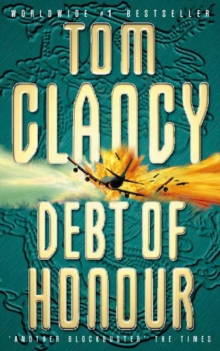 Description
Jack Ryan defends the USA against economic sabotage from the East that escalates into war in Tom Clancy's record-breaking Sunday Times No 1 bestseller - now reissued in a new cover.It begins with the murder of an American woman in the back streets of Tokyo.
It ends in war...Called out of retirement to serve as the new President's National Security Adviser, Jack Ryan quickly realizes that the problems of peace are fully as complex as those of war.
Enemies have become friends, friends enemies, and even the form of conflict has changed.
When one of those new enemies readies a strike not only at America's territory, but at the heart of her economy, it is Ryan who must somehow prepare an untested President to meet the challenge.
For there is a debt of honour to be paid - and the price will be terrifyingly high...
Information
Format: Paperback
Pages: 912 pages
Publisher: HarperCollins Publishers
Publication Date: 24/08/1994
Category: Crime & mystery
ISBN: 9780006479741
Free Home Delivery
on all orders
Pick up orders
from local bookshops
Reviews
Showing 1 - 3 of 3 reviews.
Review by reading_fox
16/06/2015
Start of the decline of the series. Jack is brought out of retirement at the same time the Japanese decide to expand, using brains again instead of brute force. America is stretched to the limit by budget cut-backs - but a bit of inginuity wins the day. The ending is silly, though a timely warning.
Review by cathepsut
16/06/2015
Now I know how Jack Ryan came to be Vice President! It made a lot of things that I read in "Executive Orders" a lot clearer…. I don't think there is much point in giving summaries of Tom Clancy's books. You either like this type of thriller or you don't. If you do, his books are among the best. And I like his characters a lot. I am not reading his books in chronological order, which is possible, but in retrospect it might make a little more sense to read them in order.
Review by jandm
16/06/2015
This book, and Executive Orders that follows it, are Clancy's best two, I reckon. His detail makes the whole far more believable than most thriller writers. The choice of unusual combatants, and unusual techniques, has turned out to be a more accurate indicator of important world events than the Cold War thinking most Governments have planned for. The financial meltdown is similar to what has happened in 2008-09 (a different starting cause, but close outcomes), and of course the 9/11-like event too. One of my first reactions on 9/11 was "Tom Clancy wrote about this years ago".A must read for any thriller lovers.