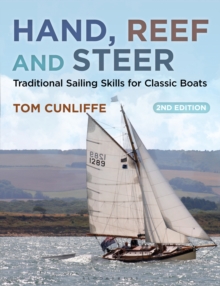 Hand, Reef and Steer 2nd edition : Traditional Sailing Skills for Classic Boats
Paperback / softback
Description
Tom Cunliffe is one of the world's greatest champions of traditional sailing boats, and is considered the guru of gaff rig sailors.
Having worked these beautiful boats all his life, his knowledge is second to none. In Hand, Reef & Steer - winner of the Best Book of the Sea Award - Tom explains the different sailing characteristics of classic craft and shares his knowledge of the special skills required to handle them.
He describes how to manage heavy loads using tackles rather than winches and reveals the mysteries of making the boat work for you rather than fighting with her gear.
He shares step by step advice on setting up the rig; sail handling skills (hoisting, setting and reefing) heavy and light air sailing; manouevring a long-keel boat; losing way, scandalizing and steering with sails, topsails, watersails, single-luff spinnakers and fisherman staysails; and much, much more. And for this new edition Tom had added new material on modern gaffers, replicas and a whole new section on sailing aspirational large gaffers. Hand, Reef & Steer, with its wonderful watercolour drawings and atmospheric photos, will delight all who love the unique character and grace of classic craft. 'Superb' Cruising 'A delightful book' WoodenBoat
Information
Format: Paperback / softback
Pages: 224 pages, Colour photos & drawings
Publisher: Bloomsbury Publishing PLC
Publication Date: 14/07/2016
Category: Sailing
ISBN: 9781472925220