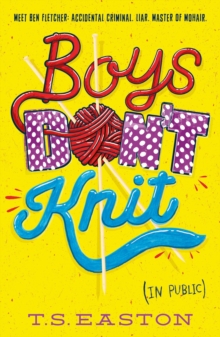 Boys Don't Knit
Paperback
Description
Meet Ben Fletcher, an Adrian Mole for a new generationBen Fletcher must get to grips with his more 'feminine' side following an unfortunate incident with a lollipop lady and a stolen bottle of Martini Rosso from Waitrose.
All a big misunderstanding of course. To avoid the Young Offenders unit, Ben is ordered to give something back to the community and develop his sense of social alignment.
Take up a hobby and keep on the straight and narrow.
The hot teacher he likes runs a knitting group so Ben, reluctantly at first, gets 'stuck in'.
Not easy when your dad is a sports fan and thinks Jeremy Clarkson is God.
To his surprise, Ben finds that he likes knitting and that he has a mean competitive streak.
If he can just keep it all a secret from his mates...and notice that the girl of his dreams, girl-next-door Megan Hooper has a bit of a thing for him... Laugh-out-loud, often ridiculous, sometimes quite touching, and revelatory about the knitting world, BOYS DON'T KNIT is a must for boys and girls...
Information
Format: Paperback
Pages: 288 pages
Publisher: Hot Key Books
Publication Date: 01/01/2014
Category: Family
ISBN: 9781471401473
Free Home Delivery
on all orders
Pick up orders
from local bookshops
Reviews
Showing 1 - 3 of 3 reviews.
Review by elliepotten
16/06/2015
Hands down one of the funniest, most charming books I've read in ages. If you threw <i>Shameless</i>, <i>Skins</i>, <i>Adrian Mole</i> and a bag of yarn into a magical bookish blender, this is what you'd get. It's about a boy called Ben who joins a knitting class as part of his parole after accidentally taking out a lollipop lady with his bike... only to find that he's good at it. Really, really good. It's very British, very funny, very earthy, and anyone who's been to school here in the last fifteen years or so will feel right at home with these characters. LOVED IT.
Review by kmartin802
16/06/2015
This was a funny, quirky story about seventeen-year-old Ben Fletcher who could win an Academy Award for worrying. Ben is fussy and funny and marches to the beat of his own drummer. After an bicycle accident involving a crossing guard and a Porsche Cayenne Ben finds himself on probation. He needs to keep a diary which we are privileged to read. He also has to find an extra-curricular activity to keep him out of trouble. Rather than taking the auto mechanics class taught by his dad, he signs up for knitting which he thinks is going to be taught by a cute teacher from his schoolBen's luck being what it is, he finds that they mixed up the teachers and the teacher of his knitting class is actually the mother of the girl Ben has a crush on. Ben is the only male in the class but he quickly learns to knit and finds that he really enjoys it. Of course, he decides to keep his knitting a secret from everyone, especially his father. But secrets have a way of getting out. Winning a place in the All-UK Knitting Championship (Junior Division) blows his cover big time.I liked Ben very much as I was reading. He was a worrier and had a poor self-image. He was bullied at school and his friends were more likely to get him into trouble than they were to listen to Ben's good advice. But along the way, Ben makes friends, including the crossing guard that precipitates his fall into the criminal life, and the probation officer who is guiding his probation, and the assorted knitters he meets. He also learns that he has strengths and gains more confidence. Best of all, he gets the girl.Fans of contemporary young adult fiction with more than just a touch of humor will enjoy Ben's story. The British slang confused me a little in the beginning but Ben and his story swept me away.
Review by wyvernfriend
16/06/2015
So nearly a good book but failed by poor research.Yes knitting is a bit of a specialist subject and I would feel pretty comfortable talking about it in a book. I wouldn't use terms like Warp and Weft, I wouldn't finish a tank top in a few days, I wouldn't finish a tea cosy in a short few hours, and I wouldn't expect a student to progress as quickly as Ben does. Now I do know people who have gone zero to jumper in a few short months, and jumpers, unless they're knit in big yarn, take time to do, the physical act of actually knitting takes time, no matter how quick a learner you are you can't ramp up to incredibly quick without muscles having to learn, without cramp setting in from unfamiliar motion if you do ramp the speed up.If I didn't know that there's no warp and weft in knitting (weaving is a different thing, totally), that I didn't know that a full garment takes more than one ball of merino, that even a tea cozy takes hours of work, that craft takes time and effort and isn't judged with speed competitions, that the Knitwits are a husband and wife (with occasional chickens) podcast, that Ravelry and Knitty and other sites with free patterns exist, that this kept breaking my willing suspension of disbelief, without these things and this knowledge this would have been a good read. With these things it was occasionally like nails on a blackboard. That these things are pretty easy to research is a fault of the writer. Ben Fletcher is an interesting character, the story outside the knitting errors is fun and it was enjoyable.Scores a must do better from me.
Also in the Boys Don't Knit series