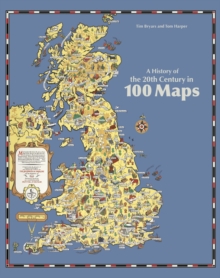 A History of the 20th Century in 100 Maps
Hardback
Description
The 20th century was a golden age of map-making, and maps permeated almost every aspect of daily life.
It was a century overshadowed by war which was also marked by tremendous social and technological change to which millions of contemporary maps bear witness.
Most were created for a specific and immediate purpose, and have never been reprinted or discussed, until now. From the first British concentration camps to the only Nazi labour camp on British soil, and from a trench map used at the Battle of the Somme to an escape and evasion map from the first Gulf War, this book explores the cartographic legacy of 20th-century conflict, from top-secret documents to mass propaganda.
These 100 maps tell many stories, revealing changing social attitudes towards the unfamiliar and unconventional, from Jewish London at the turn of the century to women in the workplace, and from the Edwardian opium trade to gay London in the 1980s.
The maps cover the peak of imperial pageantry as well as rapid post-war decolonisation, and they explore technological change from the expansion of the London Underground system to 1980s computer games. This book tells the story of a 'British' 20th century, but one which has been interpreted in the broadest possible sense, culturally and geographically.
Information
Format:Hardback
Pages:240 pages, 110 colour
Publisher:British Library Publishing
Publication Date:18/09/2014
Category:
ISBN:9780712358569