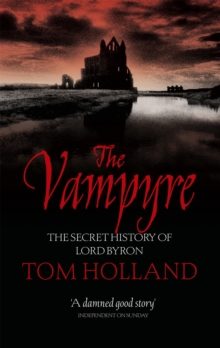 Description
Infamous poet Lord Byron comes to life with incendiary brilliance in this spellbinding blend of gothic imagination and documented fact.
Wandering in the mountains of Greece, the supreme sensualist is drawn to the beauty of a mysterious fugitive slave; soon he is utterly entranced, and his fate is sealed.
He embarks on a life of adventure even his genius could not have foreseen; chosen to enjoy powers beyond those any vampire has ever known, Byron traverses the centuries and enters a dark, intoxicating world of long-lost secrets, ancient arts and scorching excesses of evil.
But Byron's gift is also his torment: an all-consuming thirst that withers life at the root, damning all those he loves.With its impeccable scholarship and breathtaking storytelling, THE VAMPYRE is a wonderful combination of fact and fantasy.
Information
Format: Paperback
Pages: 416 pages
Publisher: Little, Brown Book Group
Publication Date: 07/06/2007
Category: Horror & ghost stories
ISBN: 9780349120461
Free Home Delivery
on all orders
Pick up orders
from local bookshops
Reviews
Showing 1 - 1 of 1 reviews.
Review by AdonisGuilfoyle
16/06/2015
An intriguing premise - Lord Byron's life history seems to lend itself to the gothic and the heroic - but delivered in a ponderous style. A descendent of Byron visits his London home in the 'modern day', looking for a second copy of his memoirs, but comes face to face with her undead ancestor instead. Byron then spends what must be a geological age, judging on how long it took me to read the novel, telling her of his life, death and immortality. All of the key historical places and personalities are featured - Greece, London, Venice, Caro Lamb and Lady Melbourne, Percy Shelley and Mary Godwin, Doctor Polidori - but with a strangely fitting darker twist. While visiting Greece with Hobhouse, Byron is killed by the lord of the vampires - and I do hate these grand societies and hierarchies that writers impose on what are supposed to be solitary creatures of the night - for trying to free a beautiful slave. He struggles, then learns to embrace this morbid afterlife, but is never entirely easy with the price - he must kill to survive, and drink the 'blood of his blood' to gain eternal youth. The best part of the story comes when Byron returns to London and meets Caro Lamb, she who famously said that the libertine poet was 'mad, bad and dangerous to know'. Well, now she has reason to complain! Another amusing deviation is Caro's mother-in-law, Lady Melbourne, who is also a vampire, but has been slowly ageing since refusing to drink the blood of her children. She and a fictional character, witty sixteenth century roue Lovelace, are Byron's mentors, attempting to educate him in the ways of the undead and lure him deeper into hell. Byron meets Percy Shelley, and desperately wants to 'convert' his fellow poet, but Shelley resists - and instead of living forever with Byron, chooses to drown when his yacht sinks. (I was fascinated, and a little disgusted, to learn that Byron did actually witness the cremation of Shelley's bloated corpse on the beach, and that Shelley's heart was saved from the embers.) Holland's interweaving of fact and fiction is brilliantly done, a serious version of the many 'mash-up' parallel novels on the market at the moment, which combine classic works with vampires, zombies and other monsters. I knew little of Byron's life before reading this macabre interpretation, but my knowledge of the real man's character will probably be forever shaded by supernatural suspicions now! The bookending of Byron's tale with the flimsy device of a questing, modern relation was unnecessary, and the pacing is very slow throughout, but I learned a lot about Byron - who actually died in Greece in 1824 - and also enjoyed the vampire mythology.Recommended to fans of Stoker's <i>Dracula</i> and Mary Shelley's <i>Frankenstein</i>.