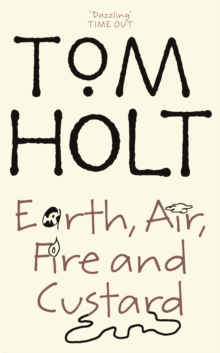 Earth, Air, Fire and Custard
Paperback
Description
J.W. Wells seemed to be a respectable establishment, but the company now paying Paul Carpenter's salary is in fact a deeply sinister organisation with a mighty peculiar management team. Paul thought he was getting the hang of it (particularly when he fell head over heels for his strangely alluring colleague Sophie), but death is never far away when you work at J.W.
Wells. Unlike the stapler - that's always going awol. Our lovestruck hero is about to discover that custard is definitely in the eye of the beholder. And that it really stings.Tom Holt's exceedingly comic fantasies are populated with evil goblins, annoying sprites and people like us.
However, it's not always possible to tell the difference.
Information
Format: Paperback
Pages: 416 pages
Publisher: Little, Brown Book Group
Publication Date: 19/01/2006
Category: Fantasy
ISBN: 9781841492827
Free Home Delivery
on all orders
Pick up orders
from local bookshops
Reviews
Showing 1 - 4 of 4 reviews.
Review by towo
16/06/2015
Reading Tom Holt is an unique experience. Imagine taking a typically imaginative British cussing like, e.g., someone from a Guy Ritchie movie, mix in a doze of sarcasm and references to popular culture, and there you go - some of the finer examples of moments that will leave you laughing out loud in the tram with people staring at you as if you've just gone totally bonkers."Earth, Air, Fire and Custard" is the sequel to his previous book "The Portable Door", which I only noticed after starting it. Nevertheless, it's enjoyable without knoving the previous ntory. Even the most habitual reader of fiction that involves people travelling through time and leaving a great big mess behind might be a bit strained by all the complexity starts to offer starting midgame, but it's nevertheless tremendously exciting.Also features crossdressing goblins, assorted undead, pink veapons, love potions, a seriously pissed guardian at the gates of the afterlife and lots of custard.
Review by fieldri1
16/06/2015
I've *finally* finished a book! Its taken me months to read this novel, but I've made it to the end...But don't take the fact that its taken me so long as a critique on the book itself. The reality is that my life has been taken over by becoming a Dad to an adorable little girl. She's taken far more of my time than books have! The fact that I persisted in fact should show that its worthwhile keeping going with the text!The story itself concerns a put upon loser, Paul Carpenter. His parents have funded their retirement to sunny Florida by selling Paul into indentured servitude at J.W. Wells. The company specialise in using magic to help their clients for handsome fees, and it seems that Paul has an innate skill that they treasure.Featuring a range of characters from Colin the Goblin, God and Mr Dao the teller at the bank of the Dead, this is a strange book. At first the story is a simple fantasy, but this changes as the life of Colin becomes more complex and entwined as his purpose as a pawn in a cosmic battle becomes clear. At several points the book makes references to previous stories, so it may have been helpful to read the appropriate prequels, but it certainly wasn't essential. Overall, good, weird fun. If you do read it, try and make sure that you read the later sections in good sizeable chunks otherwise you'll find keeping abreast with what is happening to whom, and when!
Review by tonyblair
16/06/2015
Fantasy/humour book which follows Paul Carpenter, a clerk, and unlikely hero in a book with many twists, although at times it is not always clear what is happening, the main character is also a little bit irritating after a while. The book does however have a few good moments. On the whole though I would say it was a little bit too long with the last 50-70 pages taken up with tying up the plot and explaining what had happened in the past 300 odd pages.
Review by isabelx
16/06/2015
'I have a feeling that it won't take me very long at all to get settled in here. If I may say so, Mr Tanner, you run a tight ship.'(What did that mean, exactly? A ship that never bought a round? A ship that kept getting wedged in the entrances to small harbours?)The third book in the series that started with "The Portable Door", in which Paul Carpenter has numerous problems at work, dies several more times, and continues his love-hate relationship with his colleague and ex-girlfriend Sophie Pettingell.The story seemed to take rather a long time to get going and I felt that possibly this series was running out of steam.