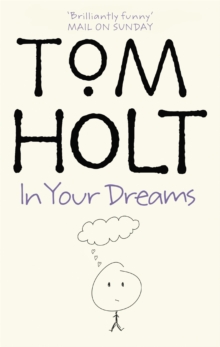 Description
Ever been offered a promotion that seems too good to be true?
You know - the sort they'd be insane to be offering to someone like you.
The kind where you snap their arm off to accept, then wonder why all your long-serving colleagues look secretly relieved, as if they're off some strange and unpleasant hook ...It's the kind of trick that deeply sinister companies like J.W.
Wells & Co. pull all the time. Especially with employees who are too busy mooning over the office intern to think about what they're getting into. And it's why, right about now, Paul Carpenter is wishing he'd paid much less attention to the gorgeous Melze, and rather more to a little bit of job description small-print referring to 'pest' control ...
Information
Format: Paperback
Pages: 480 pages
Publisher: Little, Brown Book Group
Publication Date: 13/01/2005
Category: Fantasy
ISBN: 9781841492193
Free Home Delivery
on all orders
Pick up orders
from local bookshops
Reviews
Showing 1 - 2 of 2 reviews.
Review by grizzly.anderson
16/06/2015
Tom Holt does a lot of humorous re-telling of famous stories - Faust, Beowulf, etc. He also has a fair number of books that stand more-or-less on their own. In Your Dreams is in the latter category, though it does pull from all the standards of sword-and-sorcery, and is a sequel to The Portable Door (along with Earth, Air, Fire, and Custard and You Don't Have To Be Evil To Work Here, But It Helps, which I haven't read yet).I generally find that I like Holt better when he is telling his own stories, rather than trying to conform to the formula of a classic. The story seems to flow better, and the humor doesn't feel as contrived. And of those stories, I think I like In Your Dreams best.The continuing story of the rather gormless Paul Carpenter as he tries to cope with office politics and office romance in an office full of sorcerers, fey, goblins, dwarves, etc. finds him trying to riddle out why he is so important to the JW Wells company, and how to fulfill a destiny he isn't sure he's prepared for.It kind of feels like The Office meets the Monty Python version of Harry Potter. For a fairly sizable book, Holt's easy style and humor make for a quick and entertaining read.
Review by isabelx
16/06/2015
'What's come over you all of a sudden' she asked curiously. 'All the time I've known you, you've been this timid little wimp. Now you're talking about storming the enemy stronghold and killing the queen. Have you been on one of those self-assertiveness weekends or something?'Paul Carpenter has now been working at J.W. Wells & Co. for nine months, and as part of his training he is moved to the Pest Control department, under Ricky Wurmtoter and Benny Shumway. His new role involves dealing with infestations of dragons, vampires, manticores and water nymphs, as well as hazardous trips to the Bank of the Dead to do the company's daily banking.As well as the dangers of a hero's life in Pest Control, Paul also has woman troubles. His relationship with fellow trainee Sophie is over, his childhood friend Demelza is working on reception, Rosie the goblin (aka Mr Tanner's mother) fancies him and Mr Tanner is threatening to rip his head off if he encourages her, while the head of the Effective Magic department, Judith di Castel'Bianco, seems to have got it in for him for some reason.But does Paul really know what is happening and how much danger he is in, or is it all going over his head? It would probably help if he got round to reading the office procedures manual and actually paid attention to the weird stuff rather than ignoring it whenever possible.