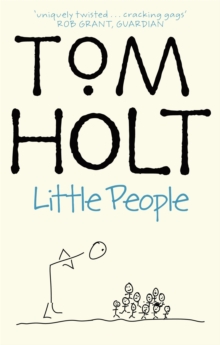 Description
I was eight years old when I saw my first elf.' ...And for unlikely hero Michael it wasn't his last.
Michael's unfortunately (but accurately) named girlfriend Cruella, doesn't approve of his obsession with the little people, but the problem is that they won't leave him alone. And who can blame them when it is his own stepfather who is responsible for causing them so much misery.
Oh yes. Daddy George knows that elves can do so much more than the gardening. Find out more about this and other Orbit titles at www.orbitbooks.co.uk
Information
Format: Paperback
Pages: 384 pages
Publisher: Little, Brown Book Group
Publication Date: 01/03/2003
Category: Fantasy
ISBN: 9781841491851
Free Home Delivery
on all orders
Pick up orders
from local bookshops
Reviews
Showing 1 - 3 of 3 reviews.
Review by harroldsheep
16/06/2015
other than a couple gaps in logic, specifically with some of the reactions of Daddy George and the ending, a very nicely paced and entertaining read.
Review by grizzly.anderson
16/06/2015
Michael Higgins (at least, Higgins is probably his last name, but it's only mentioned once about 1/2 way through in a context that makes it a little unclear) sees elves. First in the garden at his house, then years later in the road in his town when he accidentally kills one, and at boarding school. After that he sees a lot of them as he travels back and forth between elfland and the human world. The only other person who can see them is his step father, 'Daddy George', who has managed to build a successful shoe manufacturing empire on the back of elf slave labor. Inevitably Michael must face trials, learn about his mysterious past, be captured, escape,grow a spine and save the elves.It is easy to pick out Micheal's love interest, since she is the one non-elf female he interacts with and they constantly bicker with each other, just like every other couple in Holt's books. Holt must sincerely believe that opposites attract as that is the only way two people ever get together in his books.Little People is a decent enough book, but doesn't flow as well as some of his other books which makes the typically gormless hero/narrator a little harder to take. In addition I have a pet peeve with some internal inconsistencies that Holt or his editor should have picked up on and fixed. On one page Michael makes a reference to Windows Online Help. Six pages later he sees a T-shirt with "Microsoft" on it and has no idea what "Microsoft" is. About 20 pages further there are references to "Higginsoft", "Higgins Integrated Systems", "HiggInside" and "Higgins 95" all of which are clearly meant to be companies and products that have taken the place of Microsoft and Intel. When the author gets too clever with his references to keep his own fictional house in order, it really detracts from the story for me. Especially when the contradictory references appear in such close proximity.
Review by TheDivineOomba
16/06/2015
Michael saw his first elf when he was 8. Ever since then, it has plagued him. When an makes contact with him at the age of 16 - it totally changes his life and leads him on a very odd adventure that includes a shoe factory, his step father, elfland, and his true love, Cruella.I totally loved this book. I've read a couple of other Tom Holt stories, and this is the first one that I've really enjoyed reading. Everything fits, from the step-father to what Elfland should be. The elves ugh- will finish this review later. Must get some sleep.