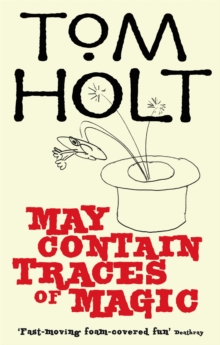 May Contain Traces of Magic
Paperback
Description
There are all kinds of products. The good ones. The bad ones. The ones that stay in the garage mouldering for years until your garden gnome makes a home out of them.
Most are harmless if handled properly, even if they do contain traces of peanuts.
But some are not. Not the ones that contain traces of magic.Chris Popham wasn't paying enough attention when he talked to his SatNav.
Sure, she gave him directions, never backtalked him, and always led him to his next spot on the map with perfect accuracy.
She was the best thing in his life. So was it really his fault that he didn't start paying attention when she talked to him?
In his defence, that was her job. But when 'Take the next right' turned into 'Excuse me,' that was when the real trouble started. Because sometimes a SatNav isn't a SatNav. Sometimes it's an imprisoned soul trapped inside a metal box that will do anything it can to get free. And some products you just can't return.
Information
Format: Paperback
Pages: 368 pages
Publisher: Little, Brown Book Group
Publication Date: 01/04/2010
Category: Fantasy
ISBN: 9781841495064
Free Home Delivery
on all orders
Pick up orders
from local bookshops
Reviews
Showing 1 - 1 of 1 reviews.
Review by Shimmin
16/06/2015
Started out very promising; I groaned a bit on spotting a link to John Wellington Wells & Co., who lost my interest a good while ago, but it's a background connection rather than anything major. I liked the basic premise with the sentient SatNav and some of the possibilities it seemed to be offering. As I read on, though, it stodged up significantly. The characters didn't get much development, and spent a lot of time holding out on one another, so on the frequent occasions when people may or may not really be themselves it's a bit hard to notice the difference.There are some interesting ideas in the book (dried water, portable parking-spaces, how fey and demons work), but I felt like they were a bit neglected (particularly dried water, which is a massive smoking Chekhov's Gun that doesn't remotely pay off the anticipation, in fact the meagre bit you do get is rushed and doesn't really explain itself). This was mostly because Holt took the book in the same JWW direction that has already lost my interest: dreams, alternate realities and iterative time travel. One consequence is that it's impossible to puzzle out the plot yourself, so you're reduced to accepting developments as they come, and when they do they tend to feel pretty arbitrary. "Oh, look, he's ended up in another reality again, or possibly back in time, or maybe it's a dream, unless that previous bit was the dream... " A couple of other baffling things are explained away briefly in exposition at the end and that's really all you get.I just felt like this was a bit uninspired. Couple who don't really get on, check. Multiple layers of time-travel and reality-hopping, check. Dissatisfied, unsuccessful male protagonist tossed about by Fate and only occasionally finding the energy to fight back, check. Mysterious manipulative women with hidden agendas, check. People deceiving each other and not even understanding why, only to work it out at the end when the convoluted exposition occurs, check. Deux ex machinesque ending, check. There were some fun touches, don't get me wrong. I do not hate this book. It's a reasonable read, has some keenly-observed sections and ideas, and some very funny moments. If you're going on a long journey, there's no harm in picking it up at the station or airport - but expect to drop it off at a charity shop at the other end, rather than read it again.