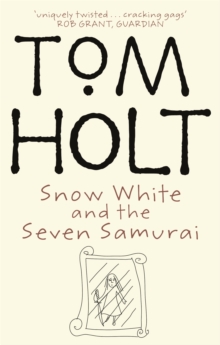 Snow White And The Seven Samurai
Paperback / softback
Description
'When Tom Holt's on form, the world seems a much cheerier place' - SFX'Frantically wacky and wilfully confusing ... gratifyingly clever and very amusing' - MAIL ON SUNDAYOnce upon a time (or last Thursday, as it's known in this matrix) everything was fine: Humpty Dumpty sat on his wall, Jack and Jill went about their lawful business, the Big Bad Wolf did what big bad wolves do, and the wicked queen plotted murder most foul. But the humans hacked, cried havoc, shut down the wicked queen's system (mirrors 3.1) and corrupted her database - and suddenly everything was not fine at all.
But at least we know that they'll all live happily ever after.
Don't we?Computers and fairy tales collide to hilarious effect in the latest sparkling cocktail of mayhem, wit and wonder from the master of comic fantasy. Books by Tom Holt: Walled Orchard Series Goatsong The Walled Orchard J.W.
Wells & Co. Series The Portable Door In Your Dreams Earth, Air, Fire and Custard You Don't Have to Be Evil to Work Here, But It Helps The Better Mousetrap May Contain Traces of Magic Life, Liberty and the Pursuit of Sausages YouSpace Series Doughnut When It's A Jar The Outsorcerer's Apprentice The Good, the Bad and the Smug Novels Expecting Someone Taller Who's Afraid of Beowulf Flying Dutch Ye Gods!
Overtime Here Comes the Sun Grailblazers Faust Among Equals Odds and Gods Djinn Rummy My Hero Paint your Dragon Open Sesame Wish you Were Here Alexander at World's End Only Human Snow White and the Seven Samurai Olympiad Valhalla Nothing But Blue Skies Falling SidewaysLittle PeopleSong for NeroMeadowlandBarkingBlonde BombshellThe Management Style of the Supreme BeingsAn Orc on the Wild Side
Information
Format:Paperback / softback
Pages:320 pages
Publisher:Little, Brown Book Group
Publication Date:21/05/2000
Category:
ISBN:9781857239881