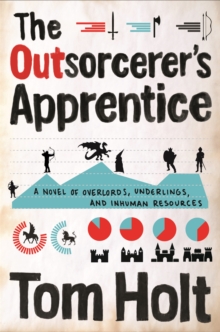 The Outsorcerer's Apprentice : YouSpace Book 3
Paperback / softback
Part of the YouSpace series
Description
'Satisfying and entertaining.' - RT Book Reviews'Entertaining....
Holt has a zany humor that will appeal to fans of Terry Pratchett and Christopher Moore.' - Library JournalA HAPPY WORKFORCE, IT IS SAID, IS A PRODUCTIVE WORKFORCE. Try telling that to an army of belligerent goblins. Or the Big Bad Wolf. Or a professional dragon slayer. Who is looking after their well-being? Who gives a damn about their intolerable working conditions, lack of adequate health insurance, and terrible coffee in the canteen?Thankfully, with access to an astonishingly diverse workforce and limitless natural resources, maximizing revenue and improving operating profit has never really been an issue for the one they call 'the Wizard.' Until now. Because now a perfectly good business model-based on sound fiscal planning, entrepreneurial flair, and only one or two of the infinite parallel worlds that make up our universe-is about to be disrupted by a young man not entirely aware of what's going on. There's also a slight risk that the fabric of reality will be torn to shreds. You really do have to be awfully careful with these things. A story of overlords, underlings and inhuman resources, The Outsorcerer's Apprentice isthe hilarious new novel from comic fantasist Tom Holt. Books by Tom Holt: Walled Orchard Series Goatsong The Walled Orchard J.W.
Wells & Co. Series The Portable Door In Your Dreams Earth, Air, Fire and Custard You Don't Have to Be Evil to Work Here, But It Helps The Better Mousetrap May Contain Traces of Magic Life, Liberty and the Pursuit of Sausages YouSpace Series Doughnut When It's A Jar The Outsorcerer's Apprentice The Good, the Bad and the Smug Novels Expecting Someone Taller Who's Afraid of Beowulf Flying Dutch Ye Gods!
Overtime Here Comes the Sun Grailblazers Faust Among Equals Odds and Gods Djinn Rummy My Hero Paint your Dragon Open Sesame Wish you Were Here Alexander at World's End Only Human Snow White and the Seven Samurai Olympiad Valhalla Nothing But Blue Skies Falling SidewaysLittle PeopleSong for NeroMeadowlandBarkingBlonde BombshellThe Management Style of the Supreme BeingsAn Orc on the Wild Side
Information
Format:Paperback / softback
Pages:400 pages
Publisher:Little, Brown Book Group
Publication Date:15/07/2014
Category:
ISBN:9780356502540