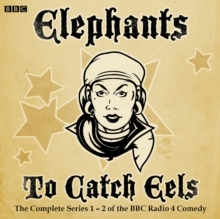 Elephants to Catch Eels : The Complete Series 1-2
eAudiobook MP3
Please note: eAudiobooks can only be purchased with a UK issued credit card.
Description
The complete Series 1 and 2 of the BBC Radio comedy set in an 18th century Cornish village.
In the first series, Tamsyn Trelawny's band of 18th century Cornish smugglers try to outwit customs officers, a hairy folk band helps Tamsyn and the Cornish smugglers to escape the law and Tamsyn tries to keep her love-life out of the scandal rags. Also, when a new rival appears in town, Tamsyn tries to quit then, finally, Tamsyn joins customs men to stop Courageous Kate from marrying her dad.
In the second series, smuggler Tamsyn Trelawny wants to win 'Peasants Personality of the Year', her head is turned by hunky new band of outlaws 'Boyz 2 Rob' and Tamsyn tries to escape from the clutches of French revolutionaries. It's also Jesters' Relief Week - but must Cornish smuggler Tamsyn raise funds for Devonians? Also, smuggler Jago is kidnapped. But can he survive in polite city society? And, lastly, there's a surprise for Tamsyn - and confusion aboard a boat to France.
Written by Tom Jamieson and Nev Fountain and produced by Jan Ravens. Elephants to Catch Eels stars Lucy Speed in the first series and Sheridan Smith in the second.
Information
Format: eAudiobook MP3
Run-time: 0 hours 0 mins
File size: 0MB
Publisher: BBC Audio
Publication Date: 19/12/2019
ISBN: 9781787537996
Download and listen
eAudiobook