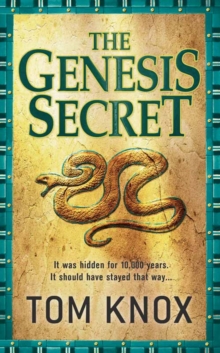 The Genesis Secret
Paperback
Description
A gripping high-concept thriller for fans of Dan Brown and Sam Bourne. In the sunburnt deserts of eastern Turkey, archaeologists are unearthing a stone temple, the world's most ancient building.
When Journalist Rob Luttrell is sent to report on the dig, he is intrigued to learn that someone deliberately buried the site 10,000 years ago.
Why? Meanwhile, in London, a bizarre attack is baffling the police.
When a weird killing takes place on the Isle of Man, followed by another in rural Dorset, DC Mark Forrester begins to discern a curious pattern in these apparently random murders. What weaves together these two stories is the Genesis Secret: a revelation so shocking it may threaten the social structure of the world.
Only one man knows the secret, and he is intent on destroying the evidence before it can be uncovered. Spanning the globe from the ruined castles of Ireland to the desolate wastes of Kurdistan, Tom Knox's intense and compelling thriller weaves together genuine historical evidence, scientific insights and Biblical mysteries into an electrifying tale that grips the reader mercilessly from beginning to end.
Information
Format: Paperback
Pages: 530 pages
Publisher: HarperCollins Publishers
Publication Date: 01/03/2009
Category: Thriller / suspense
ISBN: 9780007284146
Free Home Delivery
on all orders
Pick up orders
from local bookshops
Reviews
Showing 1 - 3 of 3 reviews.
Review by SonicQuack
16/06/2015
If you ignore the religious affiliations that the title creates, clearly seeking admittance to the popular Dan Brown genre, Tom Knox has actually created a small gem which stands tall over most of the copycat trash circulating book stores right now.The Genesis Secret is a fast paced thriller, with a tightly knit cast of characters and a solid degree of realism. There are no transparent attempts at stalling the 'secret' of the story, which is well structured. The book is well researched which results in a solid and entertaining page turner.The only flaw is that in the finale the enemy becomes somewhat overinflated, stretching realism to create a larger than life villain. It's entertaining, however somewhat unnecessary. A very good début novel.
Review by wyvernfriend
16/06/2015
It's not a bad story, though there are some seriously graphic murders detailed through the plot. Rob Luttrell finds a secret when he's reporting on an archaeological dig, a site that was deliberately burried 10,000 years ago, probable evidence of the first occupation of a city. Modern-day ritual murders link with the past and Luttrell starts to investigate. What he finds is a conspiracy of silence about the origins of man and twists truth and fiction together.It's the kind of book that makes me want to hunt up some archaeology books and ask some questions. I wasn't blown away by it and it is part of the cash-in on the Da Vinci Code but I found it less patronising than that story and less irritating.
Review by cathymoore
16/06/2015
I was warned in advance before reading this that there were some pretty unpleasant scenes. I was still shocked by the graphic violence though. And I consider myself pretty unshockable. The story itself is fairly generic, something has been dug up in the desert that indicates that world religion is built on a foundation of lies and deception and it's up to our unwitting hero, a journalist in this instance, to stop the world from finding out. If it wasn't for one or two frankly sickening scenes then I would have given this three stars for being a fairly interesting story. In honesty I only finished it out of sheer bloody mindedness.