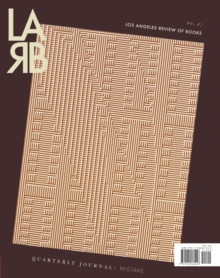 Los Angeles Review of Books Quarterly Journal: Mistake Issue : Summer 2020, No. 27
Paperback / softback
Description
The Summer 2020 issue Los Angeles Review of Books Quarterly Journal is dedicated to the Mistake.
From Eve and the apple to the invention of penicillin, many of the watershed moments in human history and mythology were catalyzed by a mistake.
In Paradise Lost, Eve's mistake was interpreted as an exercise of free will - as well as the folly - of man.
This issue explores the limits of humanity within the context of the mistake - what does it mean that many of the most significant turning points in history (good and bad) were accidents, coincidence, or purely happenstance?
The mistake is a noun defined by polarities - the explosion at Chernobyl was a deadly error, while the invention of penicillin was a life-saving discovery.
This polarity is reflected in the context of our current society, in which some are encouraged to experiment and blunder, while for others - like journalists or nuclear reactor operators - failure or inaccuracy is not an option.
In this issue, we interrogate the varying stakes and treatment of failure.
We ask, when is forgiveness appropriate? How or when does a choice become a mistake, and when do the "sides" of history come to be defined?
With the understanding that human history is a repeating cycle of mistakes, this issue features stories of offense, misunderstanding, and false judgements in order to examine how - and why - movements, governments, and people fail.
Information
Format: Paperback / softback
Pages: 144 pages, Illustrations, black and white; Illustrations, color
Publisher: Los Angeles Review of Books
Publication Date: 16/07/2020
Category: Literary studies: general
ISBN: 9781940660516