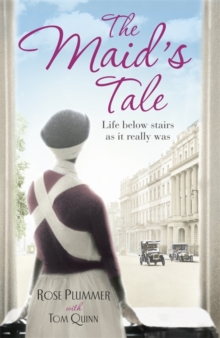 The Maid's Tale : A Revealing Memoir of Life Below Stairs
Paperback
Description
Born in 1910, Rose Plummer grew up in an East End slum; she knew at first hand a soot-blackened world, lit by candles and oil lamps, where you slept in your clothes - if you hadn't already been sewn into them for the winter - and fought an unending battle with hunger and bed bugs.
At its best, life was lived on the bustling, noisy streets where fish sellers jostled with hurdy-gurdy men, organ grinders and street fighters, where children dodged between the wheels of horse-drawn carts and where money could still be made by mudlarks and the rag and bone man.
At the age of fifteen, Rose left the noise and squalor of Hoxton and started work as a live-in maid at a house in the West End.
Despite the poverty of her childhood, nothing could have prepared her for the long hours, the backbreaking work and the harshness of this new world; a world in which servants were treated as if they were less than human.
It was a world in which Rose found herself working from six in the morning till nine at night in a house where the only unheated bedroom was the one she slept in. Here and in later, grander, houses Rose had to endure the strict hierarchy of the servants' world where the maid was expected to put up with sex pests, deranged employers, verbal and even physical abuse.
But however difficult life became, Rose found something to laugh about, and her remarkable spirit and gift for friendship shines through in her memories of a now-vanished world.
This is upstairs downstairs as it really was.
Information
Format: Paperback
Pages: 192 pages
Publisher: Hodder & Stoughton General Division
Publication Date: 15/09/2011
Category: Memoirs
ISBN: 9781444735864
Free Home Delivery
on all orders
Pick up orders
from local bookshops
Reviews
Showing 1 - 1 of 1 reviews.
Review by Carpe_Librum
16/06/2015
Rose Plummer was born in 1910, had a very poor upbringing and entered service as a maid at the age of fifteen. The Maid's Tale - Life Below Stairs As It Really Was is her own story of this time as told to Tom Quinn.Rose isn't shy about including everything, the full extent of the poverty experienced in childhood, sharing a bed with her siblings, an outdoor toilet with her neighbours and petty theft to get by.In adulthood she doesn't hold back from telling us about her flirting with soldiers in the park (which made me giggle) and the butler spit polishing the silver which the 'family' then used to eat their dinner with.These are personal highlights, however the majority of the book enlightens the reader about domestic service during this period; how the hierarchy of servants was structured, the delegation of tasks, what food each level of servant generally ate and the perks for each.Rose shares her personal story of entering service, her first house, then moving on to a bigger house and how it differed in terms of work. She also provides commentary on the impact of the second World War on domestic service and the changing opinions in society with regard to women in service and indeed her own feelings on this.What is achingly clear is that the work of a maid was backbreaking and tough, and the expectations of the families of the time or Mistress of the House do seem to us to be harsh and cruel now.I've always had a fascination for the 'life below stairs', but since the highly successful TV series Downton Abbey, there seems to be an abundance of books on the topic of servants, their duties and life experiences, enabling me to explore this further. If you're a fan of the series like me, then The Maid's Tale - Life Below Stairs As It Really Was is a great book to satisfy your own desire for more information on this part of English history.