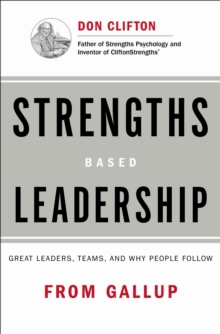 Strengths Based Leadership : Great Leaders, Teams, and Why People Follow
Hardback
Description
Nearly a decade ago, Gallup unveiled the results of a landmark 30-year research project that ignited a global conversation on the topic of strengths.
More than 3 million people have since taken Gallup's StrengthsFinder assessment, which forms the core of several books on this topic, including the #1 international bestseller StrengthsFinder 2.0.
In recent years, while continuing to learn more about strengths, Gallup scientists have also been examining decades of data on the topic of leadership.
They studied more than 1 million work teams, conducted more than 20,000 in-depth interviews with leaders and even interviewed more than 10,000 followers around the world to ask exactly why they followed the most important leader in their life.
In Strengths Based Leadership, #1 New York Times bestselling author Tom Rath and renowned leadership consultant Barry Conchie reveal the results of this research.
Based on their discoveries, the book identifies three keys to being a more effective leader: knowing your strengths and investing in others' strengths, getting people with the right strengths on your team, and understanding and meeting the four basic needs of those who look to you for leadership. A unique access code allows you to take a new leadership version of Gallup's StrengthsFinder program.
The new version of this program provides you with specific strategies for leading with your top five strengths and enables you to plot the strengths of your team based on the four domains of leadership strength revealed in the book.
Free Home Delivery
on all orders
Pick up orders
from local bookshops
Reviews
Showing 1 - 4 of 4 reviews.
Review by dougp01
16/06/2015
I am very encouraged by what I see in this book. Then again my #1 strength is ideation, which means I'm fascinated by ideas and supposed to be able to make connections between seemingly disparate phenomena. Actually, this book is getting me stirred up to apply many of these principles to my team.
Review by Mortybanks
16/06/2015
Required reading for work. Yawn.
Review by greeniezona
16/06/2015
I would like to preface this review by explaining that I am moving to a leadership position at work, and my manager asked me if I had ever had any formal leadership or management training (I hadn't), and offered to send me to a seminar. As I would rather do just about anything than go to a business seminar (jargon-speak! icebreakers! introvert-torture!), I offered to read a bunch of leadership/management books on my own time and try to find a leadership mentor. This is the first attempt at part one.<br/><br/>The trouble with checking this book out at the library instead of buying a new copy is that mostly this book is a marketing package for the Strengthsfinder 2.0 profile. Which costs $9.99 without an unused code from the back of the book. Which I came very close to paying for. But then after reading the strengths descriptions at the back of this book, I came up with a list of strengths that I can almost guarantee would by my Top 5. (Belief, Consistency, Input, Learner, Relator). There were a few others that I felt drawn to, but mostly in the "I wish I were better at this" sense. But the majority were clearly not me.<br/><br/>Okay, I've already taken the VIA Signature Strengths survey, so I'm familiar with and appreciate the concept. (Of course those 34 strengths do not seem to have a 1:1 correspondence with Gallup's 34 strengths. (Seriously?! Then how did they both come up with 34?))<br/><br/>I don't know, this book did give me some things to think about as possible areas for future growth as a leader. And I suppose that's what I was looking for. But from the description, I was expecting more tips on assessing the strengths of your team, and what areas are missing, than the insinuation that you should pay to have them all take this test.<br/><br/>A mixed bag, but ultimately unfulfilling.
Review by Pferdina
27/08/2015
I'm not convinced this is a book, exactly. Maybe all business books are like this and I don't know it because I never read that type of thing. This was assigned to me for a workshop, otherwise I never would have known about it. The first part of the book sort of explains why you want to work on your leadership strengths, and includes data from various Gallup polls and studies. There are case study interviews with four well-known leaders who demonstrate different strengths. The second part of the book is just a catalog of the "themes" identified by the Clifton StrengthsFinder assessment: what they are, how people with those themes like to work, and suggestions for how to manage people with those themes. The book also includes a one-time access code so you can take the assessment online and find out what your top 5 themes are (and you get a "report" on your strongest themes which is essentially the same as the text you had in the book, but hey, you didn't have to page through the book to find it). These all felt like horoscopes to me: vague enough that anyone can see themselves in them. I don't doubt there's some truth here, but my skepticism was on full alert.