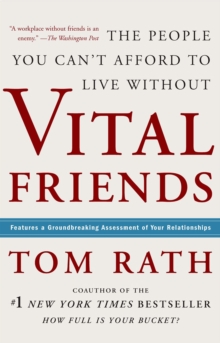 Vital Friends : The People You Can't Afford to Live Without
Hardback
Description
What's the quickest way to ruin a friendship? Can bosses actually learn something from marriages? Are very close friendships in the workplace such a bad thing?
These are just a few of the questions that author Tom Rath asked when he embarked on a massive study of friendships.
Along with several leading researchers, Rath pored through the literature, conducted several experiments, and analyzed more than 5 million interviews from The Gallup Organization's worldwide database.
His team's discoveries produced Vital Friends, a book that challenges long-held assumptions people have about their relationships. And the team's landmark discovery - that people who have a "best friend at work" are seven times as likely to be engaged in their job - is sure to rattle the structure of organizations around the world.
Drawing on research and case studies from topics as diverse as marriage, management, and architecture, Vital Friends reveals what's common to all truly essential friendships: a regular focus on what each person is contributing to the friendship.
Tom Rath's fast-paced and inviting storytelling takes a mountain of important research and makes it remarkably accessible and applicable.
By the time you finish reading Vital Friends, you'll see your family, friends, coworkers, and significant other in a whole new light.
Information
Format: Hardback
Pages: 240 pages
Publisher: Gallup Press
Publication Date: 29/06/2006
Category: Business & management
ISBN: 9781595620071
Other Formats
eAudiobook MP3 from £10.04
EPUB from £22.03
Free Home Delivery
on all orders
Pick up orders
from local bookshops
Reviews
Showing 1 - 3 of 3 reviews.
Review by DannyMorris
16/06/2015
An excellent tool to get the most out of friendship
Review by wiseasgandalf
16/06/2015
I've heard of good friends, close friends, old friends, casual friends, best friends, even "just" friends, but I had never heard the word "vital" to describe friends until this book. And that is exactly what Tom Rath proceeds to explain, that having friends, real, meaningful engaged relationships, is absolutely vital to our health, our well-being, and our personal and professional success. Not "a good idea" or "important" but actually "vital"- absolutely necessary. He starts the book by stating that so much of the focus on personal and professional success is on self-improvement. But is that really the key? His answer is, "The energy between two people is what creates great marriages, families, teams, and organizations." In fact, his first chapter is entitled, "Who Expects You to be Somebody?" where he wisely observes that it is almost always the influence of meaningful people in our lives that drives us to achievement. The second chapter, "The Energy Between," discusses how, "Focusing on the individual is too narrow -- and focusing on the entire group is too broad. The real energy occurs in each connection between two people, which can bring about exponential returns." His next chapter, "Better than Prozac?" cites some interesting research, including a Duke University study showing people with less than four close friends had more than double the risk of heart disease. The most helpful concept he develops in the book is that of "the rounding error" in chapter 5. It is easy, he says, to expect a friend to be "well rounded"-- in other words, to be good at everything: inspiring us, being a companion to us, giving us an energy boost, expanding our horizions, and a dozen other different things. This often subconscious expectation is both unrealistic (no one person can meet all our relationship needs) and a potential relationship killer, both in friendships and in romance and marriage. In a similar vein, he warns us of expecting friendships to be "reciprocal." In other words, I may be an energizer to my friend, but he may be a mind opener for me. Expecting to receive the same of what I give to a friend again is both unrealistic and a potential relationship killer. I surmise that is why the Duke health research found that it takes at least four close friends-- because different people will speak different things into your life, and you need different kinds of friends to have well-balanced friend "nutrition" for your soul, just as you need different foods from different groups to give your body what it needs. The second part of the book goes into more detail about the vital importance of friends at work, citing both anecdotes and research. The final part of the book more fully develops his system of eight vital friendship roles: Builder Champion Collaborator Companion Connector Energizer Mind Opener Navigator He discusses how these roles differ and how to develop these roles both in your life and in the lives of your friends. The book also gives you an access code to a website where you can take a survey to help classify your own friends as to the roles they play in your life. I realized the importance of my friends before I picked up this book. But after reading Vital Friends, I had more appreciation of my friends, new insights into the nature of our friendships, and greater skills & determination to develop our friendships further.
Review by DaveShearon
16/06/2015
Tom's done a great job on this book. Gallup's research has highlighted the importance of relationships at work. Organizations with lots of folks who have best friends at work are significantly more likely to have high levels of productivity, innovation, and success. I particularly like the concept of frinds serving in different roles and not expecting any friend (or yourself) to serve all those roles in any relationship.