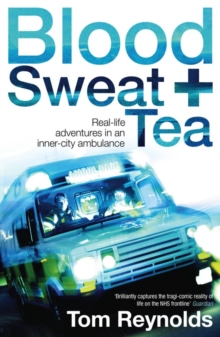 Blood, Sweat And Tea
Paperback
Description
A beautifully written insight into the stresses, strains and successes of working for the London Ambulance service.Is there anyone who hasn't wondered about the state of the occupant of an ambulance, screaming along with its sirens on and blue lights flashing?
Have you? And have you wondered about the other people inside the ambulance, maybe fighting to save the patient's life? Or have you considered that the ambulance may be another 'maternataxi' ordered by a woman who can't be bothered to book a real cab and who then complains she can't smoke on the way to hospital? And that the medical technician inside might just be desperate to get back home from a busy shift, to have a cup of tea and catch up with his blog?Meet Tom Reynolds.
Tom is an Emergency Medical Technician who works for the London Ambulance Service in East London.
He has kept a blog of his daily working life since 2003 and his award-winning writing is, by turn, moving, cynical, funny, heart-rending and compassionate.
It is never less than compelling.From the tragic to the hilarious, from the heartwarming to the terrifying, the stories Tom tells give a fascinating - and at times alarming - picture of life in inner-city Britain, and the people who are paid to mop up after it.
Information
Format: Paperback
Pages: 288 pages
Publisher: HarperCollins Publishers
Publication Date: 01/08/2006
Category: Memoirs
ISBN: 9781905548231
Other Formats
Paperback from £6.69
EPUB from £1.74
eAudiobook MP3 from £35.36
Free Home Delivery
on all orders
Pick up orders
from local bookshops
Reviews
Showing 1 - 5 of 6 reviews.
Previous | Next
Review by shadowella
16/06/2015
It is good if you read the blog. Easy enough to pick up and put down.
Review by wyvernfriend
16/06/2015
This seems to be a new phenomena. Transcribing blogs so that they get a wider audience. This is not a bad thing. This is the EMT part of Tom Reynold's Blog. Much of it is the sort of things people are gagging to hear in a pub when someone reveals that they work in the Ambulance service. It's full of humour (he is an equal opportunities bigot, he hates every equally) and pathos (Victims brought me to tears) and it really made me think about the Ambulance service. I subscribed to his blog almost immediately, his rants have the ability to make to sit back and take notice.Well worth reading, even if it's something you don't do or you're squeamish. Yes there are gory parts, but that's life.
Review by Heptonj
16/06/2015
Excellent insight into the working life of a medical professional. Some of the stories are pretty unbelievable and, sorry, very entertaining. However, it is reassuring to know that at least one of our 'caring services' really do care. Well worth the read and very hard to put down.
Recommended by a friend, this was very much a random choice of reading material, and I am glad I chose it. It is a collection of blog-posts written by an employee of the London Ambulance Service. Through the posts, which are generally only a page or two long, the writer recounts regular, less regular, and rather irregular experiences he has had while on the job. Part of the reason I liked this book was the 'behind the scenes' look it gave at the ambulance service. If anything, it has reassured me that the Ambulance Service are dedicated people who know what they are doing, will help in the best way they can, and will, most of the time, provide an excellent service.On the flip-side, large parts of this book are also very scary, disturbing, and incredibly dark to someone like me. While told in a factual, non-tabloid, manner, stories from real life about dead babies, heart attacks and crying relatives are never pleasant to read. Of course, the book also has its share of light-heartedness, and stories with happy endings. Overall I guess the book paints a picture of reality, with all the shades that go along with that. The book is very well written, rarely gets repetitive, and often got my heart beating faster as I wondered what the outcome of a particular 'job' was going to be. If you think you might like a book with real stories from an employee in the ambulance service, you will really like this book. If you don't, you might not. Either way, with a bit of Googling it is available (legally) as a free ebook, so you might as well give it a try.
Review by SallyApollon
16/06/2015
Taken from a blog, reads like a blog. No points for style, but intriguing if you like these kind of tales, good for dipping in & out of.