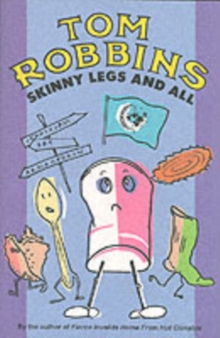 Skinny Legs and All
Paperback
Information
Format: Paperback
Pages: 422 pages
Publisher: Oldcastle Books Ltd
Publication Date: 10/03/2002
ISBN: 9781842430347
Free Home Delivery
on all orders
Pick up orders
from local bookshops
Reviews
Showing 1 - 5 of 5 reviews.
Review by Cecilturtle
16/06/2015
All you need to know about the Middle East conflict. It makes you wonder why we're still debating this. With his usual humour and incredible creativity, Robbins gives an educational lesson on the evolution of mankind.
Review by stipe168
16/06/2015
Vast story, much happens, nice to snuggle in with. Best thing about this book though: his writing. tom robbins is a master with words. he weilds them like weapons. he juggles with them, plays with them, has so much fun with them. i need to read more of him.
Review by Nelda.Moore
16/06/2015
This one took a while to "get into" but once there, it has remained with me. While the sock and the spoon were OK, it was the can of beans that stuck in my head. I keep asking myself how it crossed the ocean without rusting away...
Review by talimckell
16/06/2015
I sped through the first half and then got bogged down in his preachiness. Though I agreed with him on most of his sermons, I found myself not wanting to, thus transforming myself into a conservative suffering from reliogiophilia. Still, it was quite humorous in a smack you in the face kind of way.
Review by cjyurkanin
16/06/2015
I am enamored with everything I've read by Tom Robbins... until now. This is the third time I've tried to read this in 20 years. I mean, how in the world could I find a Tom Robbins book this awful, it had to have been my own ignorance, but this time, Tom... It's not me, it's YOU. Worst effort I've seen by you with such a promising plot. Hard to believe but your snarkiness, sarcasm, and wit comes off more as self-righteousness, egotistical slobber, and sophomoric half-assed unthoughtfulness. Very, very disappointed in you. For shame.