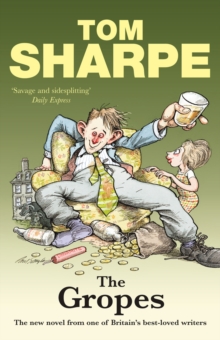 Description
It is one of the more surprising facts about Old England that one can still find families living in the same houses their ancestors built centuries before and on land that has belonged to them since before the Norman Conquest.
The Gropes of Grope Hall are one such family.... The Gropes are an old English family based in Northumberland, separated from the rest of society and as eccentric as they come.
It is a line dominated by strong-willed and oversexed women, determined to produce more female heirs regardless of whether their desired partners are willing ...
At the dawn of the new millennium, timid and gormless teenager Esmond is abducted and lured to Grope Hall by a descendant of the Gropes.
Young Esmond is powerless to escape, and his kidnap sets in motion a stream of farcical events that will have readers laughing out loud.
Tom Sharpe's trademark humour abounds in this new novel, marking him out once again as an outstanding and unique British storyteller.
Information
Format: Paperback
Pages: 272 pages
Publisher: Cornerstone
Publication Date: 10/06/2010
ISBN: 9780099534686
Free Home Delivery
on all orders
Pick up orders
from local bookshops
Reviews
Showing 1 - 2 of 2 reviews.
Review by gward101
16/06/2015
This book is the literary equivalent of baking a cake by taking all of the right ingredients and then throwing them at the oven. All the necessary Tom Sharpe staples are there to make a very fine farce. There's the ancient and eccentric family clashing with the modern world (The Throwback), there's the domineering mother hellbent on protecting her child (Wilt), there's a police investigation truly staggering in its sheer incompetence (Wilt, Riotous Assembly) and yet... and yet none of it gels. I found the plot disjointed and the humour almost completely lacking. Tom Sharpe is one of those rare authors who has the knack of making me genuinely laugh out loud. Sadly this latest effort barely raised a smile.
Review by nosajeel
16/06/2015
Tom Sharpe is one of the most savagely funny writers ever, someone that was aptly described as "P.G. Wodehouse on acid" on the back jacket of a number of his books (although not this one). His novels have cascades of increasingly outrageous situations that spiral out of control, largely fueled by characters who compete with each other in the realms of stupidity, avarice, venality, and other minor sins.<BR><BR>I hadn't read Sharpe in more than fifteen years but recently discovered he's written two new novels since then. I just read the first of them, The Gropes, published in 2009.<BR><BR>I don't know whether my tastes have changed or Sharpe's powers have dimmed, but either way the novel, while it has all the elements you expect from his novels, somehow never rises to the level of laugh-out-loud funny. Still, it is a page turner with an outrageous enough plot with dozens of twists and turns that revolves around a clan of women going back to old England that exercises complete control over their household, kidnaps men, forces them to have children, and passes control of the clan to the next generation of daughters.<BR><BR>But in addition to not being as funny as some of his previous, it also seemed just a little bit meaner and hollower.<BR><BR>That leaves one more book, the fifth in Sharpe's excellent Wilt series.