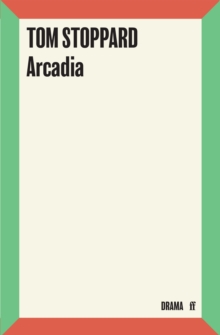 Description
In a large country house in Derbyshire in April 1809 sits Lady Thomasina Coverly, aged thirteen, and her tutor, Septimus Hodge. Through the window may be seen some of the '500 acres inclusive of lake' where Capability Brown's idealized landscape is about to give way to the 'picturesque' Gothic style: 'everything but vampires', as the garden historian Hannah Jarvis remarks to Bernard Nightingale when they stand in the same room 180 years later.Bernard has arrived to uncover the scandal which is said to have taken place when Lord Byron stayed at Sidley Park.Tom Stoppard's absorbing play takes us back and forth between the centuries and explores the nature of truth and time, the difference between the Classical and the Romantic temperament, and the disruptive influence of sex on our orbits in life - 'the attraction', as Hannah says, 'which Newton left out'.
Information
Format: Paperback
Pages: 144 pages
Publisher: Faber & Faber
Publication Date: 10/05/1993
Category: Plays, playscripts
ISBN: 9780571169344
Other Formats
Paperback from £9.99
EPUB from £7.98
Free Home Delivery
on all orders
Pick up orders
from local bookshops
Reviews
Showing 1 - 5 of 14 reviews.
Previous | Next
Review by stephenmurphy
16/06/2015
Glorious. When I was reading this i could not weait to get home, get the kettle on, and dive into Stoppards twisting labyrinth of time, taste and love. If you don't get it, read it again. You'll cry.
Review by Sandrome
16/06/2015
Atmosphere is created by the meaning implicit within the words themselves (for no-one actually talks like that). That changes the level of perception - I suppose it becomes intellectual, mainly. And at the crux the physical mixes in with the rest, and results in one of the most vivid pictures that stay in the mind forever.
Review by kettle666
16/06/2015
Tom Stoppard's greatest play? Almost certainly, but that's just my opinion. It's crammed with powerful thoughts, and the author makes you feel you are damn near as smart as he is. Deeply moving, ultimately, it shuffles between two different historical times but never moves from the one location.
Review by extrajoker
16/06/2015
first line: "Septimus, what is carnal embrace?"(which line can only be improved upon by the) second line: "Carnal embrace is the practice of throwing one's arms around a side of beef."An amazing play, which follows two timelines (concurrently, in parts) on one stage, <i>Arcadia</i> manages to be engaging and witty while tackling weighty concepts of thermodynamics, competitive literary scholarship, gender roles and sexuality, Fermat's Last Theorem, and even the gothic trends in British gardening. Somehow, Stoppard makes it all work.
Review by pzmiller
16/06/2015
One of Stoppard's best. Two parallel stories are told in a complicated weaving of such topics as mathematics, hermits, love, Lord Byron, and gardens.