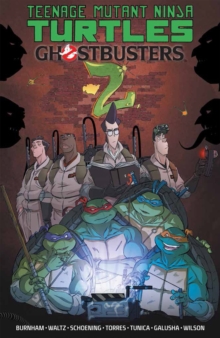 Teenage Mutant Ninja Turtles/Ghostbusters, Vol. 2
Paperback / softback
Description
They crossed the streams! Turtles and scientists,working together... and they're back for more! The two popculture phenomenonsjoin forces again in this sequel to the smash hit to fight a threat more extremethan anything either of them have ever faced. An enemy from Master Splinter's past is back andhungry for revenge.
To get it, he'll summon the most dangerous foe that theTurtles have ever encountered the Collectors, shapeshifting demons that can passthrough dimensions at will and cannot be stopped once they have been summoned toharvest a soul.
To save themselves from the clutches of the Collectors, theTurtles team up with the Ghostbusters, the only people who have ever faced themand lived to tell the tale, in a battle that turns into a chase acrossdimensions both incredible and terrifying.
Information
Format:Paperback / softback
Pages:128 pages
Publisher:Idea & Design Works
Publication Date:03/04/2018
Category:
ISBN:9781684051472