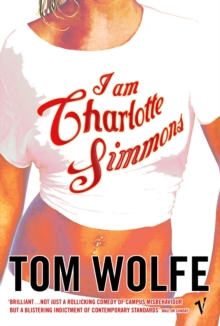 I Am Charlotte Simmons
Paperback
Description
Dupont University - the Olympian halls of learning housing the cream of America's youth, the roseate Gothic spires and manicured lawns suffused with tradition... Or so it appears to beautiful, brilliant Charlotte Simmons, a sheltered freshman from Sparta, North Carolina, who has come here on a full scholarship.
But Charlotte soon learns that for the upper-crust coeds of Dupont, sex, Cool, and kegs trump academic achievement every time.
As Charlotte encounters Dupont's elite - her roommate, Beverly, a fleshy, privileged Brahmin in lusty pursuit of lacrosse players; Jojo Johanssen, the only white starting player on Dupont's godlike basketball team; the Young Turk of Saint Ray fraternity, Hoyt Thorpe, whose heady sense of entitlement and social domination is clinched by his accidental brawl with a bodyguard for the governor of California; and Adam Gellin, one of the Millennium Mutants who run the university's 'independent' newspaper and who consider themselves the last bastion of intellectual endeavour on campus - she gains a new, revelatory sense of her own power, that of her difference and of her very innocence.
But little does she realize that she will act as a catalyst in all of their lives.
Information
Format: Paperback
Pages: 688 pages
Publisher: Vintage Publishing
Publication Date: 01/10/2005
ISBN: 9780099479024
Free Home Delivery
on all orders
Pick up orders
from local bookshops
Reviews
Showing 1 - 3 of 3 reviews.
Review by adzebill
16/06/2015
Read this mostly because it is indeed a cartoon version of Duke, where I spent the last 8 years. Far too long; could easily lose a few hundred pages of repetition, little lectures crammed in sideways, and endless handwringing internal monologues. It's also overstuffed with Wolfe's research, which he doesn't seem to get quite right; I never heard folks from North Carolina talk like that, and his internet and Darwinism and neurobiology is wrong, so I gues I have to be suspicious of his portrayal of the world of undergrads. A bunch of strange tics as well; loamy loins, winking navels, and an obsession with using technical anotomical labels for bits of people. There's a plot upon which all this research is hung, but the book is really Wolfe's disapproval with the callow youth of today. None of the characters really ring true; the sleazy-beyond-description frat boys, the earnest basketball player who discovers the life of the mind, the self-important intellectual undergrads (their long passages of supposed scholarly debate were almost impossible to wade through), and especially the hopelessly naive protagonist and her moral fall. (I actually slightly prefer her post-Fall, but I'n not sure that's Wolfe's intent.) There's supposed to be a tie-in with neuroscience and peer pressure, but I coldn't make it work. Wolfe wants to write the Dickensian Social Novel (indeed, Dickens and Zola both get shout-outs), but his righteousness and research hobbyhorses have started getting in the way. I loved Bonfire of the Vanities, thought A Man In Full was OK, but won't be rereading this one. Each of the three books ends with a epilogue wrapping up loose ends; Bonfire's is delicious and bleak, Man in Full's is just odd, but this one strives for a Big Insight and fails I think.
Review by dudara
16/06/2015
It seems odd that Tom Wolfe, would attempt to write the college story from a female perspective. However, his daughters have recently graduated from college so I suppose he was inspired by their stories. He seems to have gotten inside the female mind to a reasonable degree but there are nuances that he just doesn't seem to have gotten.Charlotte Simmons, the eponymous heroine is from Sparta, North Carolina, an american small town. As class valedictorian and academic superstar, she is expected to go far, and is due to attend Ivy League Dupont university. She expects to meet her intellectual equals at Dupont, something which has eluded her so far in Sparta. However, she is disappointed to find that students are Dupont appear to be more obsessed with drinking, partying, making out and sports, than they appear to be with studying. Wolfe also highlights the importance of sports teams to the american university system.The story in not told solely from the perspective of Charlotte Simmons. We also meet frat boy king Hoyt Thorpe who is determined to be remembered as a legend within his frat house and white basketball star Jojo Johansson who undergoes a seachange in his attitude to his studies.I mainly like the character of Charlotte Simmons, though I did find her a little sanctimonius and overly naive at times. However, her growing attempts to fit in and be seen as popular will reverbate with lots of readers. The most endearing character in the book, as far as I'm concerned is Johansson, who is determine to move beyond the jock athlete stereotype.The book is quite long, but it literally zips by due to Wolfe's pacy writing and I never once found it a chore. Critics of the book have said that it does not accurately reflect college life but I never once felt that it over exaggerating. It's a whirlwind tour of the college experience, but its a remarkable acheivement for a male writer to capture a female mind so well.
Review by PennyAnne
16/06/2015
I love Tom Wolfe - "Bonfire of the Vanities" is one of my all time favourite books. But while I enjoyed the literary play in Charlotte Simmons and found it amazing that a 70 year old male could write from the perspective of an 18 year old girl I was, in the end, not convinced by storyline. Charlotte is so unbelievably naive, pure and morally superior and yet within the space of one year she seems to have sold her soul to the devil, more interested in being seen to be the girlfriend of the hot basketball star than she is in the "life of the mind" which she was so excited about when starting University. The end of the book grated on me as much as the end of the movie Grease where Sandy gives up on all her pure and inocent ways and becomes the same as all the other girls so she can get the cool boy. Read this book to enjoy the way it is written but don't read it if you want more than a one-dimensional view of the behaviour of the privileged youth of today.