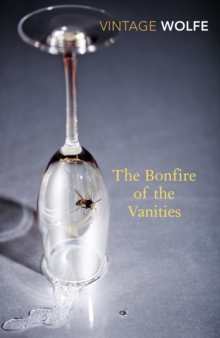 The Bonfire of the Vanities
Paperback
Description
Sherman McCoy is a WASP, bond trader and self-appointed 'Master of the Universe'.
He has a fashionable wife, a Park Avenue apartment and a Southern mistress.
His spectacular fall begins the moment he is involved in a hit-and-run accident in the Bronx.
Prosecutors, newspaper hacks, politicians and clergy close in on him, determined to bring him down.
The Bonfire of the Vanities is a caustic satire on the money-feverish Eighties.
This exuberant novel cemented Wolfe's reputation as the foremost chronicler of his age.
Information
Format: Paperback
Pages: 752 pages
Publisher: Vintage Publishing
Publication Date: 01/01/2010
Category: Classic fiction (pre c 1945)
ISBN: 9780099541271
Other Formats
Hardback from £40.05
Paperback / softback from £24.35
eAudiobook MP3 from £29.36
Free Home Delivery
on all orders
Pick up orders
from local bookshops
Reviews
Showing 1 - 1 of 1 reviews.
Review by Eyejaybee
27/08/2015
I first read this novel just weeks after its initial publication in 1988 and thought it was spellbinding then. Twenty-eight years on it has lost none of its power to enthral. Like Thackeray's "Vanity Fair" this is quite definitely a novel without a hero, though there are several victims.The basic premise is very simple. High flying Wall Street bond dealer Sherman McCoy, scion of one of New York's leading 'WASP' families and self-styled Master of the Universe, is conducting a clandestine affair with Maria, the young, sexy wife of an ageing multi-millionaire. Having told his wife that he has to work late, Sherman collects Maria from the airport but, in a moment of inattention, he finds himself stuck in the wrong lane and ends up taking a wrong turning. Instead of heading home to Manhattan he and Maria find lost in the depths of the Bronx. As they drive around ever more frightening streets, an incident occurs as a consequence of which a young black boy is accidentally knocked down by their car. They drive away, unaware of the injuries that the boy has suffered, and return to their insulated life within New York's beau monde.It transpires, however, that the young man, Henry Lamb, has been badly injured. Having called at hospital for treatment of a badly hurt wrist he returns home but subsequently complains of head pains, and subsides into a coma. Through the intervention of a radical activist in the African American community, aided by veteran radicals desperate to find a new cause, a crusade for justice for the stricken boy gathers pace. Gradually the foundation stones of McCoy's existence, that had previously seemed so secure, are pulled away and his enviable lifestyle starts to disintegrate.In the meantime Peter Fallow, a particularly odious British journalist who had been struggling to make his way in New York, finds himself being given exclusive after exclusive as the campaigners harness the tabloid press to press their cause. Fallow is a desperate parasite with a growing drink problem (some of the descriptions Wolfe offers of the journalist's morning hangovers are quite astounding), but he gradually finds his fortunes waxing as McCoy's wane.Wolfe captures the racial tensions and jealousies with a pellucid sharpness that he also directs against the vagaries of the American criminal justice system in which, in a year in which the local District Attorney has to fight his re-election campaign, McCoy becomes the "Great White Defendant", the target that every prosecutor has dreamt of. As I said at the beginning of this review, there are no heroes. Everyone, except poor Henry Lamb, is tainted. McCoy, indeed, emerges as one of the better characters. He recognises that he has, inadvertently, done something dreadful and he recognises the hollowness of many aspects of his life as a Master of the Universe, even though he is unable to summon the strength of spirit to opt for a different lifestyle.There is a Dickensian acuity of observation throughout, mirrored in Wolfe's pillorying of the higher end of the legal profession. Top 'WASP' law firms are given names such as 'Dunning, Sponget and Leach' or 'Curry, Goad and Pesterall', reminiscent of 'Private Eye's parody firm, 'Sue, Grabbit and Runne'Simply amazing!