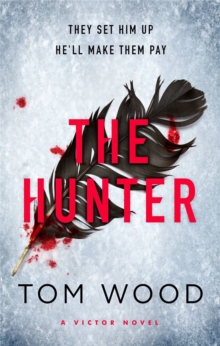 The Hunter : (Victor the Assassin 1)
Paperback
Part of the Victor series
Description
His name is a coverHe has no homeAnd he kills for a livingVictor is a hitman, a man with no past and no surname.
His world is one of paranoia and obsessive attention to detail; his morality lies either dead or dying.
No one knows what truly motivates the hunter. No one gets close enough to ask.When a Paris job goes spectacularly wrong, Victor finds himself running for his life across four continents, pursued by a kill squad and investigated by secret services from more than one country.
With meticulous style, Victor plans his escape . . . and takes the fight to his would-be killers.In this first novel in the explosive Victor series, it's not about right and wrong - only about who lives and who dies.
Information
Format: Paperback
Pages: 544 pages
Publisher: Little, Brown Book Group
Publication Date: 01/05/2011
Category: Crime & mystery
ISBN: 9780751545302
Free Home Delivery
on all orders
Pick up orders
from local bookshops
Reviews
Showing 1 - 3 of 3 reviews.
Review by magentaflake
16/06/2015
Couldn't put it down. Was definitely on the side of the assassin.
Review by crazybatcow
16/06/2015
The writing is... we'll call it 'unsophisticated'... that's the nicest word I can find to describe it. There are a lot of unnecessary and rather immature "one-liner-scenes" throughout. i.e. there is one short section where we have the point of view of a customs agent where she tries to flirt with an assassin. He ignores her. She concludes he must be gay. And... that's it. That's the whole point of this entire section... fortunately it wasn't a long section, but it was so out-of-place that it was just weird.I love books that feature assassins/vigilantes so I should love this book. Unfortunately - although it is chock-full of assassins (pretty much every character in the novel is either a hired-killer or is trying to stop one) - it wasn't very suspenseful or engaging. I did finish it, but only because of the subject matter, not because the writing encouraged me to want to continue reading. It's very immaturely written - so either it's a new author, or he's quite young...I wish I liked it more. I want to read the next in the series because books on this subject matter seem few and far between... I just don't think the author writes maturely enough that I can bear to read any more by him.
Review by AdonisGuilfoyle
16/06/2015
I chose this book for the silliest of reasons, involving fictional assassins, so I have no one to blame but myself. The first few chapters, introducing Victor the professional killer in a high octane firefight through Paris, are suitably gripping with promising characterization. Obviously, the reader never gets to learn too much about the protagonist, but there is a glimmer of personality. Victor's uneasy alliance with a female CIA agent was also intriguing. The whole conflict between the CIA and the Russians, plus the chase through Europe to discover the whereabouts of hi-tech missiles, however, was far too James Bond for my taste. Will America ever let go of the Cold War? And the final showdown between Victor and another killer was lost in translation, reading more like instructions to the hokey cokey, with hands, arms and legs interconnecting, than the tense dance of death the author was presumably going for. Not a bad novel, but not my style.