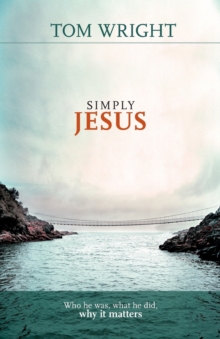 Simply Jesus : Who He Was, What He Did, Why it Matters
Paperback
Description
Who was - and is - Jesus of Nazareth? This is a simple question that every Christian must ask.
A multitude of different voices and centuries of church tradition have made it difficult for us to see Jesus the way his own contemporaries saw him, and to understand him in the way that he wanted to be understood.
This book places Jesus firmly within his own context, and shows how startlingly relevant he is to our own day as well.
In this book, renowned New Testament scholar Tom Wright sets out to answer three simple but vital questions about Jesus: who was he, what did he do and why does it matter?
The Jesus we might discover if we really looked is larger, more radical and more urgent than we ever imagined. And when we recognize Jesus, our next challenge is to follow him in his project of bringing God's wise, healing rule to bear on his world.
Information
Format: Paperback
Pages: 208 pages
Publisher: SPCK Publishing
Publication Date: 01/10/2011
Category: The historical Jesus
ISBN: 9780281064793
Free Home Delivery
on all orders
Pick up orders
from local bookshops
Reviews
Showing 1 - 1 of 1 reviews.
Review by othurtle
16/06/2015
He puts Jesus in the context of the ancient Jewish hope of independant rule confronting the oppression of Rome and then adds in a description of what seemed to have been in Jesus mind as he followed his course. Wright is rather keen on the perfect storm metaphor and sees Jesus as caught by these various winds, and he starts his book by describing the conflicting forces disagreeing about Jesus in our own day. A lot of time is spent sorting out Jesus understanding of various old testament passages and coming to his own new understanding and application of them. He was himself the beginning of the Kingdom of God, replacing the temple and inaugurating the reign of God here on earth. I gained better understanding of Jesus aims and in particular of the book of Acts. I think the emphasis on the kingdom here and now as well as in the future is true but there seems to be something lacking. I dont see a challenge to individuals, its all to communities or the church. I think we do have to challenge people to their faces and that they can expect personal satisfaction in following the King.