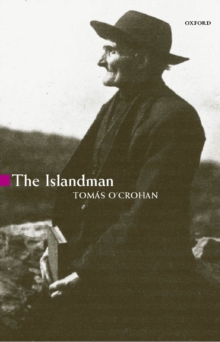 Description
Tomas O'Crohan was born on the Great Blasket Island in 1865 and died there in 1937, a great master of his native Irish. He shared to the full the perilous life of a primitive community, yet possessed a shrewd and humorous detachment that enabled him to observe and describe the world. His book is a valuable description of a new vanished way of life; his sole purpose in writing it was in his own words, 'to set down the character of the people about me so that some record of us might live after us, for the like of us will never be again'.
The Blasket Islands are three miles off Irelands Dingle Peninsula. Until their evacuation just after the Second World War, the lives of the 150 or so Blasket Islanders had remained unchanged for centuries. A rich oral tradition of story-telling, poetry, and folktales kept alive the legends and history of the islands, and has made their literature famous throughout the world. The 7 Blasket Island books published by OUP contain memoirs and reminiscences from within this literary tradition, evoking a way of life which has now vanished.
Information
Format: Paperback
Pages: 288 pages, 14 halftones, 1 map
Publisher: Oxford University Press
Publication Date: 09/03/1977
Category: Biography: general
ISBN: 9780192812339
Free Home Delivery
on all orders
Pick up orders
from local bookshops
Reviews
Showing 1 - 2 of 2 reviews.
Review by Anna_Erishkigal
16/06/2015
Perhaps the fact I am half-Irish colors my review of this book, which is written in the simple language of a simple man. Or perhaps it is the fact I studied it in an Irish Literature class I took through our local community school for no reason other than I wanted to know a bit about my people of origin? Or the fact our instructor loved the subject-matter deeply and shared with us pictures and videos of her experience visiting Great Blasket Island where this story takes place? Or the fact it is near April 15th here in the USA, tax day, and there was something about the way people in the story hid their cows and pigs from the tax-man so as not to have to pay a tax upon them? Or the thought of harvesting seals for food to survive the Great Potato famine? Or the tea which washed up upon the shore after a shipwreck? And how they had never seen such a substance and used it to dye their petticoats and fatten their pigs until they figured out it was good to drink? In any event, this is not an UNBIASED review, but an eminently biased one, because despite the slow pace in places, I enjoyed this story immensely by the 'last calf of an old cow' and would recommend anyone interested in Irish history read it and view our history not through the eyes of a high bard, but a fairly ordinary person.
Review by gbill
16/06/2015
As Robin Flower says in the introduction, "the great value of this book is that is a description of this vanishing mode of life by one who has known no other, and tells his story with perfect frankness, serving no theory and aiming at no literary effect, but solely concerned to preserve some image of the world that he has known, or, in his own words, 'to set down the character of the people about me so that some record of us might live after us, for the like of us will never be again.'"O'Crohan is not a professional writer, he's an Irishman who lived in a small community on Great Blasket Island near Dingle Bay, off the Western coast, in the 19th and early 20th century. The island is today uninhabited. Just how tough his life was is described in so many ways, but it's always understated and from our perspective that it's apparent: O'Crohan himself is certainly not whining when he talks about living with animals in the same house, his very irregular schooling, and fighting off authorities with rocks from the cliffs when they come to collect taxes. He does lament the changing world at times, however, from the younger generation leaving the Blaskets for America (and sometimes coming back because life was no better there), to observing that "nobody would put a bit of seal meat in his mouth to-day."As one visits Great Blasket Island today and sees the ruins of houses on the green hills overlooking the peaceful strand with seals looking out amongst the rocks, one tries to imagine raggedy children and tough men ambling down to try to catch and slaughter them. O'Crohan talks about hauls of thousands of fish in boon times, and of men drowning during storms – truly a rugged, difficult existence out there on that rock. He also describes his visits into the town of Dingle, a big event for him (and wonderful town today), and of the drinking of his compatriots which sometimes got out of hand. For "Drink was cheap, too. It wasn't thirst for the drink that made us want to go where it was, but only the need to have a merry night instead of the misery that we knew only too well before." What's also interesting in the book is what's <I>not</I> there: very little description of his wife, their courtship, marriage, or his children, except a passing mention of some of their sad deaths. I say that not to fault him; that fact in and of itself is an interesting reflection of the way life was then, or at least, how he saw his life. This hit home all the more towards the end when he says "What I've written down are the things that meant most to me". The people are gone, and their way of life too. The waves still crash there and the wind still howls. The rabbits, seals and fish still thrive. The ruins of the houses are a reminder of what once was, and books like <I>The Islandman</I> (as well as a few others from those who lived there) bear witness. And for that it's worth read reading.
Also by Tomas O'Crohan