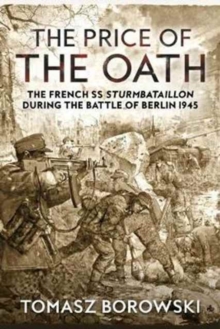 The Price of the Oath : The French Ss Sturmbataillon During the Battle of Berlin 1945
Paperback / softback
Description
An account of the French Waffen-SS volunteers in the battle for Berlin 1945, containing eyewitness accounts and much additional information appearing in English for the first time. The French brigade, later a division in the Waffen SS, was a direct descendant from the `Legion of French Volunteers Against Bolshevism'.
After bloody fighting in the summer of 1944 in the south of Poland, near Sanok and Mielec, it was sent to the rear to rest and regroup. A few months afterwards, in the face of the critical situation of the German troops in Pomerania, in February 1945 the newly formed 33.
SS-Volunteer Grenadier Division ""Charlemagne"" was deployed to the town of Czarne (Hammerstein).
After many losing battles against overwhelming enemy force, the unit was pushed into a chaotic retreat, which caused irreparable changes to its structure as well as its complete decomposition and, ultimately, destruction. From the utterly decimated division, only a few hundred men reached the rendezvous point in the German Neusterlitz.
Some of those, who chose not to lay down arms, formed an SS-Volunteer Assault Battalion, 300 hundred strong, and joined their final battle amongst the ruins of the Third Reich's capital - Berlin.
Disregarding the heavy losses they suffered, the Frenchmen fought on to the bitter end against overwhelming Soviet superiority. Armed with small arms and panzerfausts, they turned Berlin into a graveyard for Soviet tanks, whose attacks were steadily pushed back by the French Panzerjagers for several days and several nights. Despite their desperate circumstances, they remained faithful to their oath, even in the face of the calamity that awaited them ... until the bitter end. Their part in the Battle for Berlin became a modern-day Thermopylae and - as such - a legend for historians of the Second World War. This work not only recalls already known facts but attempts to shine a new light on these tragic days of April and May 1945.
The author gives voice to eyewitnesses, whose memories are published in English for the first time in this book.
This book is illustrated in innovative ways with photographs commissioned specifically for this project, filled with the emotion and terror which permeated the Third Reich in its last days and hours.
The book is complemented with a special graphic novel and colour photographs of uniforms and equipment of the SS-French Assault Battalion. ... And then, there was only silence...
Information
Format: Paperback / softback
Pages: 264 pages, 160 b/w ills & maps, 20 colour ills
Publisher: Helion & Company
Publication Date: 28/02/2018
Category: European history
ISBN: 9781911512998
Free Home Delivery
on all orders
Pick up orders
from local bookshops