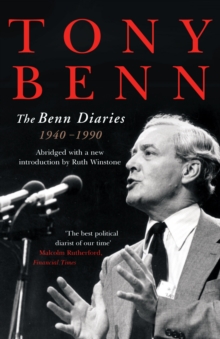 The Benn Diaries : 1940-1990
Paperback
Description
The Benn Diaries, embracing the years 1940-1990, are already established as a uniquely authoritative, fascinating and readable record of political life.
The selected highlights that form this single-volume edition include the most notable events, arguments and personal reflections throughout Benn's long and remarkable career as a leading politician. The narrative starts with Benn as a schoolboy and takes the reader through his youthful wartime experiences as a trainee pilot, his nervous excitement as a new MP during Clement Atlee's premiership and the tribulations of Labour in the 1950s, when the Conservatives were in firm control.
It ends with the Tories again in power, but on the eve of Margaret Thatcher's fall, while Tony Benn is on a mission to Baghdad before the impending Gulf War. Over the span of fifty years, the public and private turmoil in British and world politics is recorded as Benn himself moves from wartime service to become the baby of the House, Cabinet Minister, and finally the Commons' most senior Labour Member.
Information
Format: Paperback
Pages: 704 pages, 8 Illustrations, unspecified
Publisher: Cornerstone
Publication Date: 03/01/1998
ISBN: 9780099634119
Free Home Delivery
on all orders
Pick up orders
from local bookshops
Reviews
Showing 1 - 1 of 1 reviews.
Review by the.ken.petersen
16/06/2015
This book was not nearly as entertaining or informative as I had expected. Tony Benn is an incredibly intelligent man but one whose time has come and gone. I do not believe that he is as naive as these diaries would lead us to assume: he seems unable to understand any view which does not fit his own. I was also disappointed by his reading of the events, which history has shown to be consistently wrong - David Owen would lead the SDP into the Conservative Party, the Labour Party was finished when Neil Kinnock took over, etc.Half way through this book, I was on the verge of hurling it out the window: Mr. Benn never questions his rectitude, should sixty million people in Britain vote, in unison, against him, he would blame the media, a right wing conspiracy, or anything.The miners strike was a classic example of where he could have been a valuable recorder but, every miner was a sweet innocent and every policeman was a fascist thug. This attitude weakens an argument which undoubtedly has some merit.: terrible things were done by the forces of law and order, but not every member thereof.Benn further dilutes the responsibility of the thugs by implying that, at every subsequent rally, the same treatment occurred. He never questions anyone who claims violence by the police.Having curtailed the urge to eject the book, I reached the end feeling rather sorry for Mr. Benn. He could have been so much, very possibly a Prime Minister to rival Tony Blair's record but, could never compromise and seems to have turned into a leader of a small group of acolytes unable to interact with the world at large.I do not feel that Benn is nearly as useful as Chris Mullin because Mullin reports, is self deprecatory and an outsider whereas Benn is always right, is the centre of his universe and too close to the action.