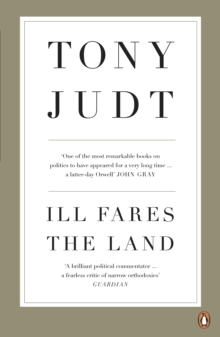 Ill Fares The Land : A Treatise on Our Present Discontents
Paperback
Description
'Ill fares the land, to hastening ills a prey, Where wealth accumulates, and men decay' - Oliver Goldsmith Something is profoundly wrong with the way we live today.
For thirty years we have made a virtue out of the pursuit of material self-interest: indeed, this very pursuit now constitutes whatever remains of our sense of shared purpose.
But we have forgotten how to think about the life we live together: its goals and purposes.
We are now not only post-ideological; we have become post-ethical.
We have lost touch with the old questions that have defined politics since the Greeks: is it good?
Is it fair? Is it just? Is it right? Will it help bring about a better society? A better world? The social contract that defined postwar life in Europe and America - the guarantee of security, stability and fairness - is no longer assured; in fact, it's no longer part of collective conversation.
In this exceptional short book, Tony Judt reveals how we have arrived at our present dangerously confused moment and masterfully crystallizes our great unease, showing how we might yet think ourselves out of it. If we are to replace fear with confidence then we need a different story to tell, about state and society alike: a story that carries moral and political conviction.
Providing that story is the purpose of this book.
Information
Format: Paperback
Pages: 256 pages
Publisher: Penguin Books Ltd
Publication Date: 01/04/2011
Category: Ethical issues & debates
ISBN: 9780718191412
Free Home Delivery
on all orders
Pick up orders
from local bookshops
Reviews
Showing 1 - 1 of 1 reviews.
Review by Jotto
16/06/2015
This analysis of political and economic developments during the past century argues that it is social democracy rather than classical socialism or the capitalism of Thatcher and Reagan with its strategies of privatization and deregulation that will produce the secure and genuinely democratic society that both Europeans and a small but growing number of US politicians seek to more fully realize in the former case and to sell politically in the latter case. Judt offers a helpful overview in this volume but little in the way of concrete political strategy.