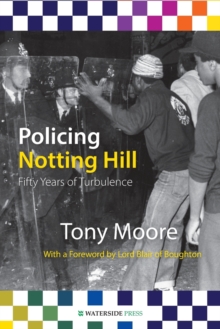 Policing Notting Hill : Fifty Years of Turbulence
Paperback / softback
Description
Notting Hill is one of the most sought after locations in London.
But its progress from 'ghetto' to gentrification spans half-a-century within which it was one of the most turbulent places in Britain - plagued by decline, disadvantage, unsolved killings, riots, illegal drugs, underground bars (or 'shebeens'), prostitution, 'no-go areas' and racial tension.
It was also populated by characters such as self-styled community organizer Frank Crichlow, slum landlord Peter Rachman, Christine Keeler, the Angry Brigade, 'hustlers' such as 'Lucky' Gordon and Johnny Edgecombe, the activist Michael X (later executed in Trinidad) and the occasional radical lawyer.
It was the location of the racist murder of Kelso Cochrane, the litigation-minded Mangrove Restaurant, the brief surge of Black Power in the UK and most notably the iconic Notting Hill Carnival with its heady mix of festivity, excitement, street crimes, potential for disorder and confrontations with the police.
So what was it like operating in this 'Symbolic Location'?In this book, Tony Moore, one of those in charge of policing Notting Hill, shows how the area continually adapted to challenges that first began after the Empire Windrush arrived in England carrying immigrants who were initially met by signs saying 'No Coloured', but for whom Notting Hill became an area of choice.
It is a wide-ranging account of the factors in play at a time of unprecedented social change, told from the perspective of an 'insider', based on prodigious research including in relation to hitherto unpublished materials and personal communications.
Information
Format: Paperback / softback
Pages: 412 pages
Publisher: Waterside Press
Publication Date: 01/07/2013
Category: British & Irish history
ISBN: 9781904380610