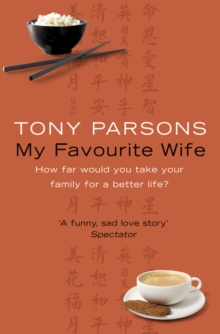 My Favourite Wife
Paperback
Description
The world-wide, mega selling author of Man and Boy is back with a sizzling, Shanghai tale of sex, romance and second wives Hot shot young lawyer Bill Holden and his wife Becca move with their four year old daughter to the booming, gold-rush city of Shanghai, a place of enormous wealth and crushing poverty, where fortunes are made and foreign marriages come apart in spectacular fashion. Bill's law firm houses the Holden family in Paradise Mansions - a luxury apartment block where newly rich Chinese men install their second wives: fabulous young beauties like JinJin Li, ex-school teacher, crossword addict and the Holdens' neighbour. After Becca witnesses a tragedy that awakens her to the reality of life beyond the glitzy surface of the city, she returns temporarily to London with Holly - and Bill and JinJin are thrown together. Bill wants to be a better man than the millionaire who keeps JinJin Li as a second wife on the side.
A better man than anyone who cheats. Becca is his best friend. And, in the end, adrift without his young family, can he give JinJin anything better than she had before? My Favourite Wife is a book about where sex, romance and obsession ends, and where true love begins.
Information
Format: Paperback
Pages: 432 pages
Publisher: HarperCollins Publishers
Publication Date: 04/08/2008
ISBN: 9780007226498
Free Home Delivery
on all orders
Pick up orders
from local bookshops
Reviews
Showing 1 - 2 of 2 reviews.
Review by michaeldwebb
16/06/2015
I bought this from a supermarket ('nuff said) as I'd run out of reading material, and if I was being unkind I'd say I'd have been better off reading the back of a cereal packet. To be honest, the book doesn't stand a chance really. The protagonist is a lawyer, so Parsons has an uphill battle getting any sort of empathy going anyway, and it just feels tired and forced. It wasn't even really easy reading guilty pleasure material, though somewhat bizarrely featured adverts for bars of chocolate near the back.I've enjoyed a couple of Parson's previous books (Man and Boy and Stories We Could Tell), but this story of a lawyer seeking his fortune in China, and becoming torn between his wife and a Chinese girl just doesn't work on any level. The writing often read like a Parsons pastiche, the characters were one dimensional, and the story took a laughable turn during a typoon. I've given it two stars as I did make it do the end, but I wouldn't really recommend this one, even if you have enjoyed previous Parsons books.
Review by edwinbcn
16/06/2015
Extremely superficial novel, perhaps in its superficiality an excellent depiction of expat life in China. The description of expat life in China is excellent.