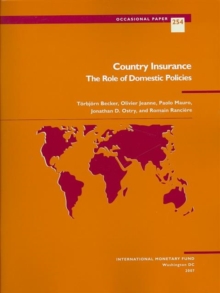 Country Insurance : The Role of Domestic Policies
Paperback / softback
Description
What are the most damaging external shocks for countries at different stages of development?
What can countries do to protect themselves against such disturbances?
Real shocks (for example, to the terms of trade) are the most important ones for developing countries, but financial shocks (for instance, sudden stops) rank highest for emerging market countries. ""Country Insurance: The Role of Domestic Policies"" examines ""self-insurance"" policies whereby countries can protect themselves - leaving to future work the role of regional and multilateral arrangements.
The main messages are that countries need to adopt appropriate reserve buffers that take into account their vulnerability to shocks - with the size of such buffers quantified by region - and pursue policies, such as longer-term domestic currency debt and foreign direct investment, that secure less crisis-prone external liability structures.
Information
Format:Paperback / softback
Pages:50 pages, col. Illustrations
Publisher:International Monetary Fund (IMF)
Publication Date:01/12/2006
Category:
ISBN:9781589066076