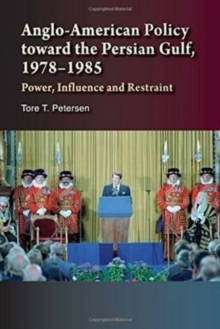 Anglo-American Policy toward the Persian Gulf, 19781985 : Power, Influence and Restraint
Hardback
Description
For many commentators and historians the announcement of the Carter Doctrine signaled the end of the British presence and the final transfer of power to the United States in the Persian Gulf.
But on the ground the reality was different, after the announcement of the British leaving the Persian Gulf in 1971, formal positions were replaced by informal ones.
Britain still ran much of the political, economic and military life in the lower Gulf and in the Arabian Peninsula.
The transition from formal to informal empire was seamless: British influence remained large and almost paramount in the region.
Margaret Thatchers premiership saw a sharp increase in British influence not only in the traditional British enclaves of the Persian Gulf sheikdoms, but surprisingly even in Saudi Arabia.
The historic Al-Yamamah deal with Saudi Arabia in 1985, selling advanced fighter aircraft, was Britains largest ever arms deal. While British influence in the Gulf increased, the Americans floundered culminating in the ignominy of the Iran/Contra scandal, and the Reagan administration meekly accepting Iraqi dictator Saddam Husseins apology for attacking the USS Stark killing 34 American sailors in May 1987 payback for the Irani-American rapprochement.
Tore T. Petersen sets out the policy objectives of Great Britain and the United States as they confronted the initial emergence of fundamentalist Islam, with the occupation of the Holy Mosque in Mecca and Khomeneis revolution in Iran.
Research by the author in the Nixon, Carter and Reagan presidential libraries provides strong evidence for US strategy based on Nixonian foreign policy objectives, supported all the way through to the Reagan administration.
Information
Format: Hardback
Pages: 192 pages
Publisher: Sussex Academic Press
Publication Date: 01/11/2014
Category: International relations
ISBN: 9781845193713
Other Formats
Paperback / softback from £19.29
Free Home Delivery
on all orders
Pick up orders
from local bookshops