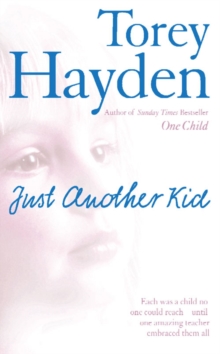 Just Another Kid : Each Was a Child No One Could Reach - Until One Amazing Teacher Embraced Them All
Paperback
Description
A dramatic and remarkable narrative of an extraordinary teacher's determination, from the author of the Sunday Times bestsellers `The Tiger's Child' and `One Child'. Torey Hayden faced six emotionally troubled kids no other teacher could handle - three recent arrivals from battle-torn Northern Ireland, badly traumatised by the horrors of war; an eleven-year-old boy, who only knew life inside an institution; an excitable girl, aggressive and sexually precocious at the age of eight; and seven-year-old Leslie, perhaps the most hopeless of all, unresponsive and unable to speak.
But Torey's most daunting challenge turns out to be Leslie's mother, a stunning young doctor who soon discovers that she needs Torey's love and help just as much as the children. `Just Another Kid' is a beautiful illustration of nurturing concern, not only for a few emotionally disturbed children, but for one woman facing a personal battle.
Information
Format: Paperback
Pages: 512 pages
Publisher: HarperCollins Publishers
Publication Date: 01/06/2006
Category: Biography: general
ISBN: 9780007218653
Free Home Delivery
on all orders
Pick up orders
from local bookshops
Reviews
Showing 1 - 2 of 2 reviews.
Review by Heptonj
16/06/2015
I had this book given to me and would not have chosen it myself as I am not a fan of this genre. However, the book is well written and takes the reader through the course of a year with disturbed children.The main theme of the book is, however, 'Just Another Kid' as in Ladbrooke - a very troubled but ultimately redeemable parent/aide who is taken under the wing of Torey Hayden. The trials and tribulations of the entire, though small class including teacher and aide make for interesting reading and is very thought-provoking.
Review by escapepea
16/06/2015
I don't really know why I paid attention to this book as it was going past me. I was tiring - perhaps anything could have distracted me at that point. But this is the book that was in my hands.It tells the tale of a teacher. It tells a little about the lives of six children and the teacher's assistant, but mostly it's about a teacher. It would make sense - it's categorised on the back as a memoir.I suppose I read it because I wanted to check it. I wanted to make sure it wasn't yet another tale of the underclass (in this case, disabled folks) being at a standstill and unable to do anything, until the better, more normal, more like-the-reader protagonist sweeps in and fixes everything overnight. The sentence on the front cover of this edition - "Each was a child no one could reach - until one amazing teacher embraced them all" - didn't exactly ease my fears. I knew I'd be less like the protagonist than the people she'd be saving, so I wasn't expecting to enjoy the book.Halfway through the book, however, I was ecstatic. This book had a person who had one of the problems I have. This was the first time I'd encountered anyone in a story who did this (couldn't speak whilst stressed), and the surrounding symptoms were very familiar to me. This person wasn't just a cardboard cut out (as a couple of the children ended up) - this was the character with the most development, the most description. And she was like me, at least in this tiny way.By the end, though, I was worried by the book. How much of it was true? It was supposed to be true, and I really wanted to have not been lied to. But there were incidents in there that shouldn't have been published without the consent of the people involved, and the epilogue explained that there were people that the author had lost contact with. After the epilogue were adverts for other books of hers, including one set in a psychiatric ward, all memoirs. This really worried me. Hippocratic oath, anyone? Should she have written any of these books, as I'm sure there's people who aren't legally allowed to have given informed consent in every single one?It's easy to exploit children - even easier if you're convinced that it's the right thing to do. No-one's disability should be anyone's bestseller.And the sentence on the front of the book? Is a lie.