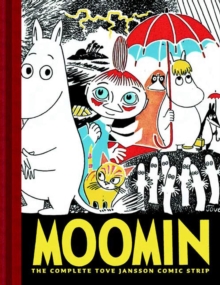 Moomin : The Complete Tove Jansson Comic Strip Bk. 1
Paperback
Description
The enchanting comic strip that introduced adult readers to the wonderful world of MoominTove Jansson is revered around the world as one of the foremost children's authors of the twentieth century for her illustrated chapter books regarding the magical worlds of her creation, the Moomins.
The Moomins saw life in many forms but debuted to its biggest audience ever on the pages of the world's largest newspaper, the "London Evening News, "in 1954.
The strip was syndicated in newspapers around the world with millions of readers in forty countries. "Moomin Book One "is the first volume of Drawn & Quarterly's publishing plan to reprint the entire strip drawn by Jansson before she handed over the reins to her brother Lars in 1960.
This is the first time the strip will be published in any form in North America and will deservedly place Jansson among the international cartooning greats of the last century.The Moomins are a tight-knit family-hippo-shaped creatures with easygoing and adventurous outlooks.
Jansson's art is pared down and precise, yet able to compose beautiful portraits of ambling creatures in fields of flowers or on rock-strewn beaches that recall Jansson's Nordic roots.
The comic strip reached out to adults with its gentle and droll sense of humor.
Whimsical but with biting undertones, Jansson's observations of everyday life, including guests who overstay their welcome, modern art, movie stars, and high society, easily caught the attention of an international audience and still resonate today.
Information
Format: Paperback
Pages: 96 pages, b&w
Publisher: Drawn and Quarterly
Publication Date: 01/10/2006
Category: Fantasy
ISBN: 9781894937801
Free Home Delivery
on all orders
Pick up orders
from local bookshops
Reviews
Showing 1 - 5 of 8 reviews.
Previous | Next
Review by -Eva-
16/06/2015
Imagine my delight when I found these, my favorite books from childhood that are out-of-print in Sweden! I think every Nordic person has Mumintrollen living somewhere in their heart, and although these books are translated into English and it's a little bit harder to "hear" their Finnish-accented Swedish, they are still as fantastic as I remember them. Muminpappa cherishes his crazy adventures, Muminmamma her home and hearth, Snorkfröken her romances, and Mumin himself just wants everyone to be happy and get along. Different as they are, they have one over-riding goal in common: to have fun! The ultimate in anarchy, you just can't help but admire their guts and gusto and their complete devotion to each other. Or, as the character Stinky puts it, "Indeed you are the most idiotic family I ever saw - but you are at least <b>living</b> every minute of the day!!"
Review by bexaplex
16/06/2015
This is the first book in a collection of the Moomin comic strips published from 1954-1959 by Tove Jansson, and later continued by her brother. I have read <i>Finn Family Moomintroll</i>, a Moomin book about a magician's hat, and I liked this collection of comics better. The characters are sharper: Moominmamma's placidity is more ridiculous, Moominpappa is more bombastic, the Snork Maiden is more grasping. The first story arc makes fun of get-rich-quick schemes; the third of tony vacation getaways. Or maybe I just like it because there's an aunt Jane.
Review by skcramer
16/06/2015
This first volume of Moomin cartoons features the well-loved Finnish characters in four nonsensical adventures. The stories themselves have a rambling quality, with needless digressions playing for laughs, and some readers may be put off by this unfocused storyline. It is really the characters – the classic Moomin cast of Moomintroll, Moominpappa, Moominmamma, Snufkin, Sniff and the Snork Maiden – that lend the comic strip its charm. The illustrations are black-and-white line drawings with the hippopotamus-like Moomins and their friends styled exactly as they were in the Moomin book illustrations. Readers who enjoyed with Moomin books as children will likely enjoy the comic strip. However, this is not the book to introduce young readers to the Moomins. One must also have some previous knowledge of the characters to understand much of the humor. The content is also occasional mature, with references to suicide and drunkenness, and the endnote specifically states that the comic strip was intended "for adults." While libraries may wish to purchase this comic strip for older Moomin fans, libraries hoping to purchase Moomin materials to introduce children to the series would be better off purchasing the original books. Recommended for readers age 14 and up.
Review by shanaqui
16/06/2015
I don't think I have any terribly specific thoughts on the Moomin comic strips. I love them, they fill me with warm fuzzies and make me laugh, and they're awfully cute. Although there's a lot of wry commentary on human nature, I think -- the silly things they do to impress or annoy each other.<br/><br/>And, anyway, the Moomin comics are just perfect for sickbed reading. Just... don't take the copies out of my local library when I return them, they're probably covered in my germs...
Review by Rosa.Mill
27/01/2016
A cute series about a Moomin (who lookslike a hippo) and his friends and family, but I didn't like it enough to try and finish out the series.