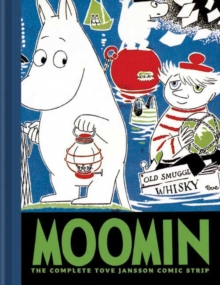 Moomin : The Complete Tove Jansson Comic Strip Bk. 3
Hardback
Description
"Moomin "has been swiftly making its way into the hearts of North Americans ever since Drawn & Quarterly began collecting the strip in 2006.
It debuted in the "London Evening News "in 1954 and has become the fastest-selling D+Q series to date.
Fifty years ago, Tove Jansson's observations of everyday life-whimsical but with biting undertones-easily caught the attention of an international audience and still resonate today.
This third volume returns to Moominvalley, where its beloved inhabitants get tangled up in five new stories.
Moomin falls in love with a damsel in distress, an unseasonably warm spell turns the valley into a tropical rain forest, and a flying saucer crashes into Moominmamma's garden.
Moominpappa decides to live out his dream of occupying a lighthouse and writing a great seaside novel, only to discover that he hates the sea so close up and has no interest in writing about it, and a variety of curious clubs spring up in the valley.
Moomin and Moominmamma do their level best to avoid the whole mess but, of course, get drawn into the muddle.
Information
Format: Hardback
Pages: 104 pages, black and white illustrations throughout
Publisher: Drawn and Quarterly
Publication Date: 08/09/2008
Category: Comics and Graphic Novels
ISBN: 9781897299555
Free Home Delivery
on all orders
Pick up orders
from local bookshops
Reviews
Showing 1 - 2 of 2 reviews.
Review by -Eva-
16/06/2015
Imagine my delight when I found these, my favorite books from childhood that are out-of-print in Sweden! I think every Nordic person has Mumintrollen living somewhere in their heart, and although these books are translated into English and it's a little bit harder to "hear" their Finnish-accented Swedish, they are still as fantastic as I remember them. Muminpappa cherishes his crazy adventures, Muminmamma her home and hearth, Snorkfröken her romances, and Mumin himself just wants everyone to be happy and get along. Different as they are, they have one over-riding goal in common: to have fun! The ultimate in anarchy, you just can't help but admire their guts and gusto and their complete devotion to each other. Or, as the character Stinky puts it, "Indeed you are the most idiotic family I ever saw - but you are at least <b>living</b> every minute of the day!!"
Review by shanaqui
16/06/2015
I saw two stuffed Moomins in the window of a shop in Plymouth when I was there for Seth Lakeman's pieces with the BBC orchestra. That reignited an old love I had for them. I got this from the library today -- the first volume wasn't in, but I've now reserved it, ha! It's so cute, and often quite funny -- I mean, they're Moomins, but they're just, oh, <I>people</I>. Like Moominpappa wanting to move away to a lighthouse to write a novel and then finding out that it isn't what he wanted at all, and Snorkmaiden feeling jealous, and...<br/><br/>Best quote: "Indeed you are the most idiotic family I ever saw -- but you are at least LIVING every minute of the day!"