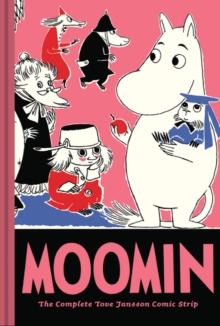 Moomin : The Complete Tove Jansson Comic Strip Bk. 5
Hardback
Description
The final volume in the series drawn by Tove Jansson """Moomin Book Five: The Complete Tove Jansson Comic Strip "features the final strips drawn by Tove Jansson and written by her brother Lars for the "London Evening News," before Lars took over both the art and the writing.
The first "Moomin Winter" returns with more unwanted guests than in "Book One," especially the curious and secret-spilling Nibling, sending the Moomin household into a tizzy of secrecy and closed doors.
In "Moomin Under Sail," theMoomins find themselves without a new adventure until Too-Ticky's compass gives them the idea to build a boat and head to sea.
Finally, we meet the Fuddler in "Fuddler's Courtship."Mymble captures poor Fuddler's heart, and his bumbling drives her straight into the arms of Dr.Hatter, the local psychiatrist.
Delightfully quirky, the Moomin family does not fare well under the gaze of someone trained in correcting odd behavior.
Information
Format: Hardback
Pages: 88 pages, Black and White Illustrations
Publisher: Drawn and Quarterly
Publication Date: 28/06/2010
Category: Cartoons & comic strips
ISBN: 9781897299944
Free Home Delivery
on all orders
Pick up orders
from local bookshops
Reviews
Showing 1 - 2 of 2 reviews.
Review by -Eva-
16/06/2015
I think every Nordic person has Mumintrollen living somewhere in their heart, and although these books are translated into English and it's a little bit harder to "hear" their Finnish-accented Swedish, they are still as fantastic as I remember them. Muminpappa cherishes his crazy adventures, Muminmamma her home and hearth, Snorkfröken her romances, and Mumin himself just wants everyone to be happy and get along. Different as they are, they have one over-riding goal in common: to have fun! The ultimate in anarchy, you just can't help but admire their guts and gusto and their complete devotion to each other. Or, as the character Stinky puts it, "Indeed you are the most idiotic family I ever saw - but you are at least <b>living</b> every minute of the day!!"Unfortunately, this edition of book 5 has been sloppily edited - in two places there are strips inserted that are duplicates of the panels from different stories and so the strips that were supposed to be there are missing. I'm surprised that the publisher didn't fix this blatant error; at the very least they could have put a supplement in the book with the missing panels. As it is now, this is not a "Complete Tove Jansson Comic Strip."ETA: I've been informed that the book now comes with stickers to correct the missing panels - not an attractive solution, but definitely much better than no correction.
Review by shanaqui
16/06/2015
Loved the story with Snorkmaiden and Moomin trying to get someone together with Mymble. Especially the ending... The characters remain their quirky, adorable selves. And I do love that Moomins look like hippos.