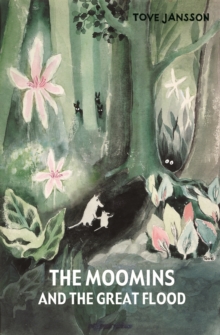 The Moomins and the Great Flood
Hardback
Description
Created in 1945, yet published in this country for the very first time, The Moomins and the Great Flood offers an extraordinary glimpse into the creativity and imagination that launched the Moomin books. Moominmamma and young Moomintroll search for the long lost Moominpappa through forest and flood, meeting a little creature (an early Sniff) and the elegantly strange Tulippa along the way. Tove Jansson illustrates her first ever Moomin adventure with stunning sepia watercolour and delightful pen and ink drawings. A revelation for Moomin fans. Other Moomin picture books include The Book About Moomin, Mymble and Little My [9780955352743], Who Will Comfort Toffle? [9780953522798] and The Dangerous Journey [9780954899592].
Free Home Delivery
on all orders
Pick up orders
from local bookshops
Reviews
Showing 1 - 2 of 2 reviews.
Review by Michael.Rimmer
16/06/2015
I remember Moomintroll from TV adaptations and Jackanory readings from when I was a child, but I've never read any of Jansson's Moomin stories until now. I liked it!<br/><br/>The story has its interesting points, but what makes this book for me are Jansson's illustrations - very strange, phantasmagorical and other-worldly.<br/><br/>The slim story is a series of episodes in the journey made by Moomintroll and Moominmamma, searching for the missing Moominpappa who, for no good reason that I can discern, has left his family to go a-wandering with the rather creepy Hattifatners. The "little creature" they meet and adopt (named Sniff in later books) is reminiscent of Piglet, Winnie-the-Pooh's friend, being easily frightened and rather timorous through most of the story. Tulippa is a rather mysterious "flower-fairy", who joins their company for a while, before somewhat capriciously deciding to shack up with a lighthouse keeper (if it was a lighthouse). Then there's the old man who has created a world made out of chocolates (Fazer brand), sweets and lemonade, prefiguring Dahl's Willy Wonka, though I'm uncertain as to any direct connection.<br/><br/>A great story for children, and I'm sorry that I didn't come to these books in time to read them to mine - I think I've a while to wait for grandchildren, but when they arrive Moomintroll will be waiting for them!
Review by hyarrowen
16/06/2015
Now at last I know what happened before the events of Comet in Moominland and it's a wild ride, especially the culmination of the story. I loved Moominmamma in particular - she's tough and feisty, every inch the mother protecting her child and herself, and seems to know everything, as all mammas should. Then there are the wonderful trademark illustrations by the author, of her off-beat world and its strange northern jungles. This book is worth the very long wait to read it.