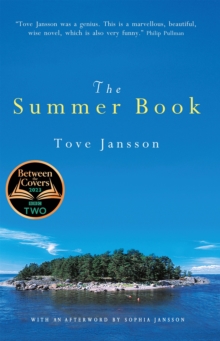 The Summer Book
Paperback
Description
An elderly artist and her six-year-old grand-daughter while away a summer together on a tiny island in the gulf of Finland.
As the two learn to adjust to each other's fears, whims and yearnings, a fierce yet understated love emerges - one that encompasses not only the summer inhabitants but the very island itself. Written in a clear, unsentimental style, full of brusque humour, and wisdom, The Summer Book is a profoundly life-affirming story.Tove Janssoncaptured much of her own life and spirit in the book, which was her favourite of her adult novels.
This new edition, with a Foreword by Esther Freud, sees the return of a European literary gem - fresh, authentic and deeply humane.
Information
Format: Paperback
Pages: 176 pages
Publisher: Sort of Books
Publication Date: 29/05/2003
ISBN: 9780954221713
Free Home Delivery
on all orders
Pick up orders
from local bookshops
Reviews
Showing 1 - 5 of 15 reviews.
Previous | Next
Review by Niecierpek
16/06/2015
It's an adult book by the author best known in North America for her children's series on the Moomins.I liked the book, but found it rather inconsequential. Not sure what audience it was directed to, either.
Review by thinkpinkDana
16/06/2015
I chose this book rather randomly for the Decades Challenge from the 1001 Books you Must Read Before you Die list, and I am very glad I did. At the time the weather was stuck between spring and yuk, and I just wanted something to feel like summer (I am secretly part lizard and my skin missed the sun). The Summer Book is a gentle, pleasant book of vingettes of time spent at a family's summer home on an island in the Finnesh Archepelago. At least, that is what it is on the surface. Underneath is a wealth of wisdom about grief, love, family, relationships, contentment and loss. Amazingly Jansson insightfully captures the inner workings of all ages, from Grandmother to young granddaughter without ever feeling stilted or stereotypical.Perhaps the most delightful aspect of reading this book for me was the opportunity to devote an afternoon (it is a short novel which took me only 2-3 hours to complete) sitting by the river, baking in the sun while enjoying this joyful story.If you would like to read more about The Summer Book (there seems to be little information available) you can find it linked below, including a download of the first chapter at the bottom of the page.
Review by CarltonC
16/06/2015
Much more a collection of connected short stories rather than a novel, this is a delightful book with some beautiful vignettes of a grandmother and granddaughter and their changing relationship. The book is set mainly on a small island in the Gulf of Finland and many stories have a strong sense of place. Some stories work well to create a feeling or mood well, such as 'The Road' or 'Sophia's Storm', others are poignant without being sentimental about the experience of getting old.
Review by tronella
16/06/2015
Tove Jansson also invented the Moomins, who are evil and terrifying. However, this is just a collection of scenes about a girl and her grandmother living on a remote island in Finland (I think?) in which not much really happens. It was very atmospheric and I did like it, but the girl was a bit too bratty for my liking! (Not that I wasn't an enormous brat myself.)
Review by Gilmore53
16/06/2015
An absolute delight. You can just image those summer days and nights in the Finnish archipelago.