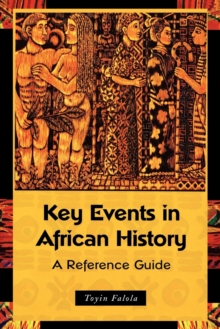 Key Events in African History : A Reference Guide
Paperback / softback
Description
This reference guide to African history provides substantive entries on 36 watershed events that shaped the history of the continent from the prehistoric past to the dawn of the 21st century.
Noted African scholar Toyin Falola clearly and articulately chronicles the growth and change of the continent from the agricultural revolution through colonial rule to African independence and the end of apartheid, examining the powerful moments at which Africa became drawn into the global world.
Each entry appears in chronological order and consists of a comprehensive essay on the event, its historical, social, and geographic context, and its long-term significance.
Many illustrations and maps provide valuable visual tools for the reader.
Each entry concludes with suggestions for further reading.
A narrative introduction to the history of the continent and a timeline of events place the events in historical and global context. Based on the latest scholarship, this reference work analyzes the major events in African history and their ramifications, and draws connections between the past and the present.
Key themes recur throughout: the development of diverse African cultures, Arab and European incursions and influence, and the efforts of African peoples to gain independence in the 20th century.
Among the events recounted are the Iron Age, the rise of the Kush, the spread of Islam, the 19th-century outbreak of Islamic Jihad, the Atlantic slave trade, European conquest and the African response, Pan-Africanism, the women's decade of 1965-1975, and environmental and political challenges of the last years of the 20th century.
Well written and objective, this work is an essential reference tool for students and an excellent complement to the study of African history.
Information
Format: Paperback / softback
Pages: 376 pages
Publisher: ABC-CLIO
Publication Date: 30/08/2002
Category: African history
ISBN: 9780313361227
Free Home Delivery
on all orders
Pick up orders
from local bookshops